The oil tanker which caught fire after it collided with a freighter in the East China Sea a week ago sunk Sunday afternoon, China's maritime authority said.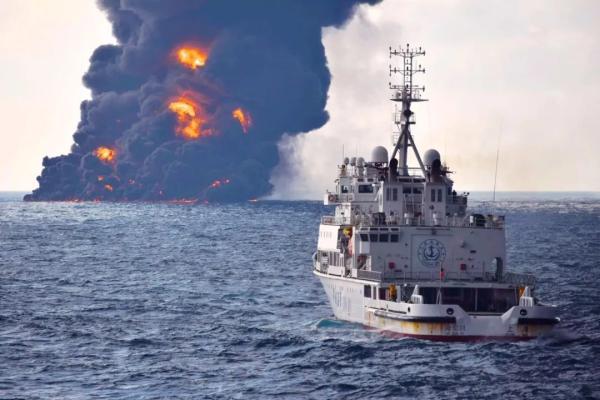 The State Oceanic Administration (SOA) said in a statement that it had detected fires and dense black smoke in a large area around the Panama-registered oil tanker Sanchi at around 10 a.m. Sunday and the entire ship sunk at around 3 p.m.
A large amount of spilled oil is still burning on the surface around the site, the SOA said.
The administration said it will monitor the oil spills and evaluate the accident's impact on the marine environment.
Iranian officials now say all 32 crew members - 30 Iranians and two Bangladeshis - on the tanker are dead.
Some 13 vessels and an Iranian commando unit had been taking part in the salvage operation, amid bad weather.
A spokesman for the Iranian team, Mohammad Rastad, said there was no hope of finding any survivors.
On Saturday, salvage workers had boarded the vessel and found the bodies of two crew members in a lifeboat.
Only one other body had been found during the week of salvage operations.
The rescue workers retrieved the ship's black box but had to leave quickly because of the toxic smoke and high temperatures.
Sanchi, carrying 136,000 tonnes of light crude oil from Iran, collided with the CF Crystal, a Hong Kong-registered bulk freighter, about 300 kilometers east of the Yangtze River estuary on Jan. 6.
Related news:
Update: Explosion on Iranian oil tanker Sanchi forces rescue team to retreat
Update: Rescue crews wrestle to tame China oil tanker fire; body of mariner found (Video)
32 crewmembers missing as oil tanker and Hong Kong-registered bulk freighter collide off east China coast