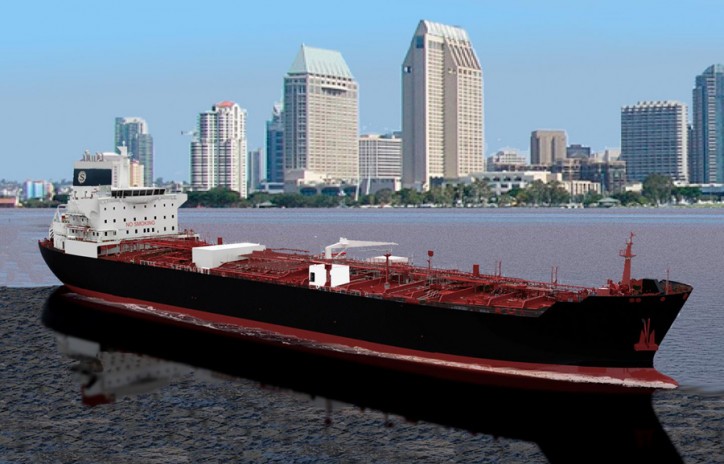 Yesterday, the US-based General Dynamics NASSCO shipbuilding company cut the first piece of steel for the 2nd entry in a series of three LNG-ready Jones Act product tanker vessels with deadweight of 50,000 tons for SEA-Vista Newbuild lll LLC, at its San Diego yard.
The brand new tankers have a length of 610 feet and a capacity for handling 330,000 barrels of cargo. They serve as a continuation of the previous ECO MR Tanker design that features a Ballast Water Treatment System.
DSEC, which is a Daewoo Shipbuilding & Marine Engineering (DSME) subsidiary, is responsible for designing the tankers.
Due to the ECO design provided by DSEC the vessels can improve their fuel efficiency levels via the use of several components such as an optimized hull form and a main engine of the G-series MAN ME slow-speed type.
The tankers are going to be equipped with conversion-capable, dual-fuel-capable auxiliary engines and will be able to fully accommodate the future integration of an LNG fuel-gas –based system along with tanks.
"It is a pleasure to be initiating the building of the 2nd cutting edge Jones Act-qualified tanker vessel for our client that is SEA-Vista. NASSCO's commitment towards constructing the most cost and eco efficient vessels for the purpose of Jones Act owners and operators remains as strong as ever, and these vessels serve as proof for just that," commented Kevin Graney, Vice President and General Manager for General Dynamics NASSCO.
SEA-Vista is a SEACOR Holding Inc. subsidiary.