The ferry Amorella, operated by Viking Line, ran aground with 2,000 passengers on board, 2 days ago. According to information from the operator of the ship no one is hurt or in danger. The passenger ferry ran aground while sailing to Långnäs harbour.
Viking Line informed that the ferry M/S Amorella is being inspected by divers and an assessment of the hull damage will be made. The ship ran onto rocks and scraped the seabed. A minor leak has been discovered in one of the water ballast tanks. Soon after the Amorella ran aground, the ship had electrical problems. Passengers noticed the lights on the ship suddenly went out when the ship crashed.
People on board will be compensated with a free trip, or they will get back their money. All of the passengers are on their way home. When the crash occurred, everyone received life jackets, despite there was no risk of sinking according to the Viking Line. The vessel was slightly damaged and had to be directed to Mariehamn harbour.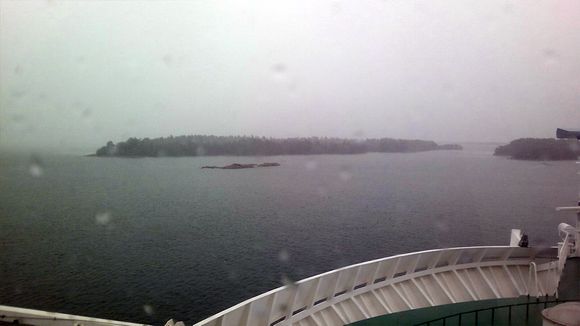 Some of the passengers went to Turku overnight by switching to a Silja Line ferry at Långnäs, others went to Finland by taking another Viking Line ship, the rest sailing to Sweden took Viking Rosella.
The Finnish Transport Agency (sea traffic) informed that the shipping lane was closed, except for vessels participating in the rescue operation.
Viking Line suspects that the ferry Amorella ran aground because of maintenance work in the engine room. CEO of the company, Mikael Backman, informed that a new engine room failed to start up, which was the main cause of the electrical problems. Backman announced that power cuts sometimes happen, but should not be allowed:
"We will now check this out as a serious matter, and hope that this kind of thing does not occur again on ships."
Amorella has to be repaired on the Rauma dockyards. The ferry will be ready to return before Christmas.