A semi-submersible accommodation unit, developed by Yantai-based CIMC Raffles Offshore Ltd, was delivered in Yantai, Shandong province on Feb 7.
The new unit, OOS Tiradentes (previously called the CR-600), is due to depart from Yantai this month and be stationed in Brazil where it will operate for Petrobras, the country's State-owned oil giant.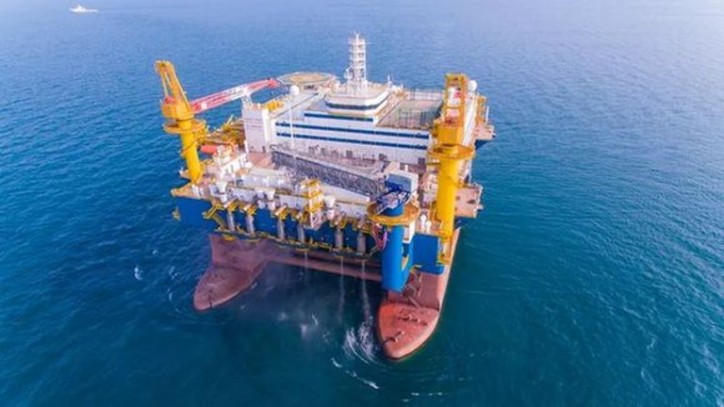 OOS Tiradentes is a self-propelled unit equipped with electrically-driven cranes with a capacity up to 2 x 60 tons and accommodation for 600 people on board. The vessel has a dynamic positioning system and offers safe access to and from an offshore installation using a Marine Aluminum telescopic gangway.
It includes an outdoor sports field, a cinema that can accommodate an audience of 180 people, a gym and a library. Wang Peng, manager of the program at the CIMC Raffles Offshore Ltd, is proud that the platform was independently designed and developed by CIMC. The platform is acclaimed as the "Hilton on the Sea" for its five-star level accommodation, Wang said, adding that the platform can cater to the need of safe production while also providing a comfortable living environment.
Léon Overdulve, CEO of OOS International, said: "The platform, developed in China by CIMC Raffles, represents an important step in our strategy of adding a substantial capacity, reducing fuel consumption and saving on costs to meet the clients' needs."
With its advanced technologies and rich experience, CIMC Raffles Offshore Ltd has developed 36 offshore engineering units, half of which were ordered by international clients. So far, CIMC Raffles has delivered nine deep-water semi-submersible drilling units, accounting for 80 percent of the country's market share. The success of CIMC has also helped boost the international profile and recognition of Yantai offshore engineering.
With the support of more than 13,000 employees, including 800 engineers and researchers, CIMC Raffles already has the technology to make products that have a longer life cycle, perform better under extreme weather conditions and the methods to use more advanced materials in building oil rigs or vessels.
Established in 1977 as a shipyard to build bulk carriers, the company now operates three offshore engineering product manufacturing bases in Yantai, Haiyang and Longkou. Eager to diversify its business categories, its research and development center also focuses on wind power systems, high-end shipbuilding, seawater desalination, rotating machinery, condition assessment and equipment life extension programs.
Source: China Daily