More than 3300 British Columbians flocked to Seaspan's Vancouver Shipyards yesterday to attend an Open House hosted by Canada's Non-Combat Shipbuilder.
During the event, attendees received an up-close look at the most modern facility of its kind in North America and witnessed the unveiling of the first vessel to be designed and built under the National Shipbuilding Strategy (NSS) – the Canadian Coast Guard's first Offshore Fisheries Science Vessel (OFSV).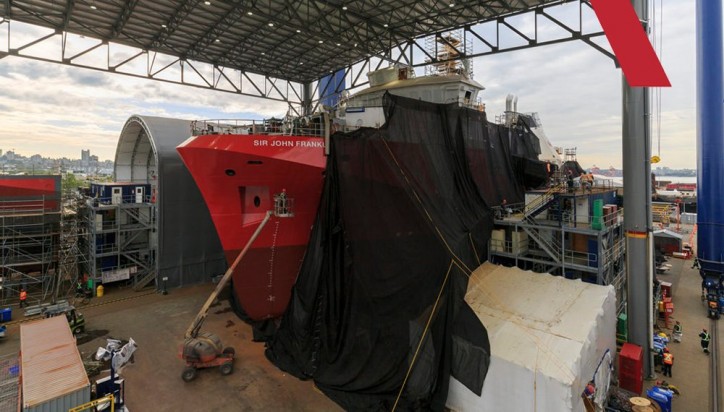 "Today is a historic day for the women and men of Seaspan Shipyards as we deliver on our commitments to the Canadian Coast Guard and Royal Canadian Navy," said Brian Carter, President & CEO – Seaspan Shipyards. "In the unveiling of the first Offshore Fisheries Science Vessel, we are affirming our long-term commitment to Canada and our leading role in the growth of a West Coast centre of excellence in shipbuilding and ship repair."
"It is indeed a privilege to be present to witness the unveiling of the first vessel to be delivered under the Government of Canada's National Shipbuilding Strategy," noted Jonathan Wilkinson, Member of Parliament for North Vancouver and Parliamentary Secretary to the Minister of the Environment. "The construction of this Offshore Fisheries Science Vessel represents a significant milestone in our government's effort to revitalize Canadian shipyards and construct vessels for the Navy and Coast Guard. The National Shipbuilding Strategy continues to made a significant impact in local economies including right here in my home of North Vancouver. Seaspan itself is not only a major employer in North Vancouver and the Lower Mainland but is also a very important part of our community."

"Seaspan Shipyards has created a state-of-the-art shipbuilding facility that will be producing vessels for Canada's coast guard and navy for years to come," said B.C. Minister of Jobs, Trade and Technology Bruce Ralston. "The company's investments are creating well-paying jobs not only in North Vancouver, but also in Victoria, the Lower Mainland and across Canada through its marine supply chain. Congratulations to Seaspan on this first of several milestones under the National Shipbuilding Strategy."
In addition to the unveiling of OFSV 1, Open House guests also got a firsthand look at the visible progress of OFSVs 2 and 3, received a series of guided facility demonstrations, posed at a photo booth in front of Big Blue – Canada's largest permanent gantry crane, and also participated in a number of fun family activities. The event saw guests interact with workers and learn about Seaspan's efforts to rebuild Canada's domestic shipbuilding industry.
"Seaspan Shipyards could not be where it is today without the unwavering support of our friends, neighbours and other community partners, and words cannot express how proud I am to open our doors to show them the world-class vessels we are building," said Brian. "Today is not just a celebration; it is proof of the incredible capabilities of Canada's shipbuilding industry."
In October 2011, after an open and competitive procurement process, the Government of Canada awarded Seaspan's Vancouver Shipyards the opportunity to build Canada's Non-Combat vessels for the Canadian Coast Guard and Royal Canadian Navy.
Seaspan Shipyards' work on the NSS Non-Combat package of vessels is having a solid impact on the Canadian economy and helping to create thousands of jobs across the country. Seaspan Shipyards will spend millions this year with Canadian suppliers, and has to-date committed to spend more than $500 million across its supply chain on NSS-related work.
Source: Seaspan Shipyard