Under the memorandum of understanding (MoU) signed Wednesday morning with Vietnam National Shipping Lines (Vinalines), Rent-A-Port N.V. may purchase 10 per cent of Vinalines' stake and may also have other possible cooperation in the projects of a terminal and a logistics facility in Lach Huyen and a general cargo terminal in Dinh Vu in the northern port city of Haiphong.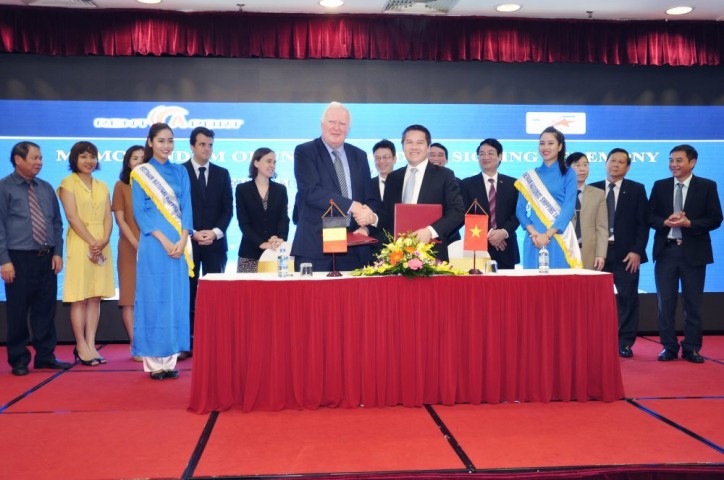 On August 30, 2017, the MoU signing ceremony between Vinalines and Belgian Rent-A-Port and Deep C Industrial Zones (including the Belgian government's investment) took place in Hanoi.
The MoU aims to utilise the potential, the expertise, and experience of both parties to promote a transportation link between Vietnam and the EU. Accordingly, there may be possible cooperation between parties in the projects of a terminal and a logistics facility in Lach Huyen and a general cargo terminal in Dinh Vu.
In particular, a joint venture to develop the terminal in the area of Lach Huyen deep-water seaport may be established. Besides, there will be another joint venture to develop a logistics hub on a scale of around 250 hectares, opposite the aforementioned terminal to optimise loading and unloading, storing, processing, and distributing grain to meet the increasing demand.
In addition, Rent-A-Port may participate in the 630-metre General Cargo Terminal project in Dinh Vu. This project is now invested by Vinalines Dinh Vu, in which Vinalines is holding 51 per cent of the chartered capital.
Last but not least, Rent-A-Port may acquire 10 per cent of Vinalines' chartered capital upon its equitisation. As such, Rent-A-Port shall be attached to Vinalines for the long term and support Vinalines after equitisation in terms of transferring new technologies, human resources training, financial improvement, administration, services, and market expansion.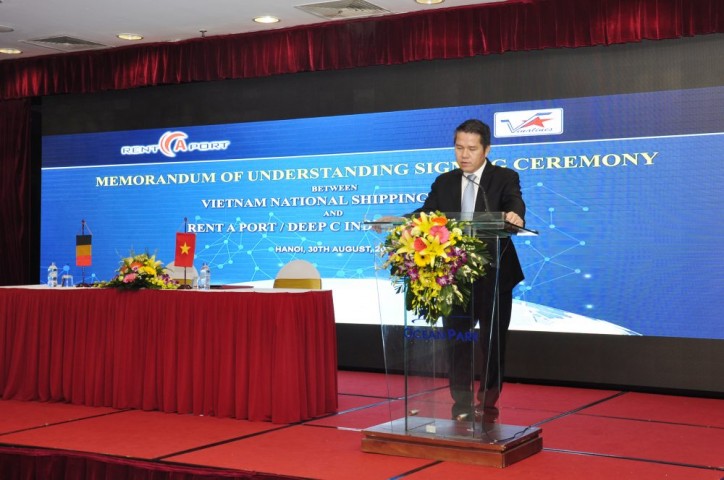 At the ceremony, Vinalines CEO Nguyen Canh Tinh said, "During the process of development, Vinalines always expects to cooperate on the long run with competent and experienced partners in terms of investment, development, operation of ports, logistics systems, and those who contribute capital to participate in Vinalines' corporate governance. With such purposes and plans, we have conducted several meetings between Vinalines and Rent-A-Port over the last six months. We have realised that Rent-A-Port and Deep C Industrial Zones have successful investments and development in northern Vietnam. The signing of the MoU with Rent-A-Port today is a proof of Vinalines' wish to continuously expand our relationship with foreign partners in order to achieve today's success."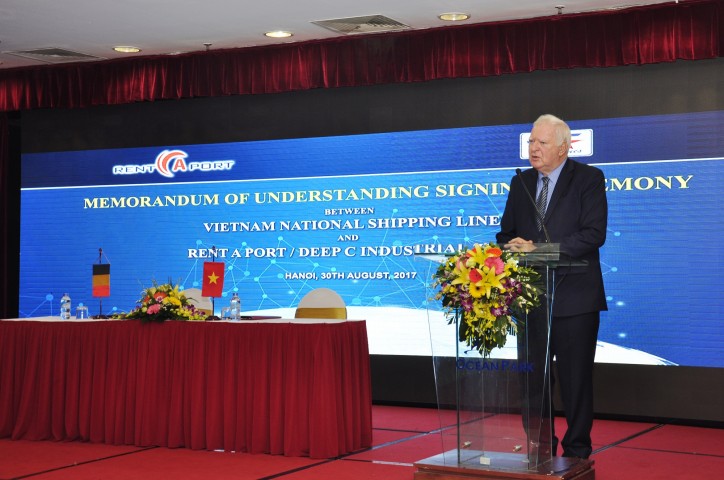 Before officially signing the MoU, Marc Stordiau, Rent-A-Port's CEO and Deep C Industrial Zones' chairman, also confirmed the importance of the relationship with Vinalines, "The MoU that we are going to sign is the first and also an urgent and important step because if we can cooperate with Vinalines and the government as well as Lach Huyen local authorities, we could immediately bring 4-5 million tonnes of rice and grain to the new port, which is a good sign for Vinalines' IPO in the coming period."
Vinalines is a leading shipping company in Vietnam specialising in seaports and marine services in the country. Vinalines' two projects including Vinalines Dinh Vu general cargo port and seaport, logistics services in Haiphong International Gateway Seaport in Lach Huyen (via Haiphong Port JSC) are the group' focus in this area in the coming time.
Moreover, as planned, Vinalines's IPO in December 2017 shall convert the company into a joint venture company as of April 2018. Expectedly, the state will hold 65 per cent of the chartered capital of Vinalines, meanwhile maximum 35 per cent of the chartered capital will be offered to local and international investors. Vinalines will also hold the majority shares in 11 ports, including Haiphong Port, Saigon Port and Danang Port which Vinalines takes 65 per cent of the chartered capital.
Rent-A-Port is the "port-related" investment and management arm of the Belgian Holding Ackermans & van Haaren, which was founded in 1885 and is one of the largest stock-listed holding companies of Belgium, with its assets of 2.7 billion euro ($3.2 billion).
Rent-A-Port operates as an engineering and investment company that analyses, designs, constructs, develops, and manages port, logistic, and marine infrastructure, as well as industrial zones worldwide. Some examples are Port of Antwerp (Belgium), the second busiest port of Europe, Port of Kampen (The Netherlands), Port of Duqm (Oman), and Port of Messaieed (Qatar), among others.
Regarding Vietnam, through the Deep C Industrial Zones consortium, Rent-A-Port has already invested an amount in excess of $200 million and has now also committed to invest, in the 10 coming years, an additional $250 million in various ports and industrial zones in Haiphong and the northern province of Quang Ninh.
Source: Vinalines