The vessels to enter the Gothia Tanker Alliance network 2019-2020
Thun Tankers, part of the Gothia Tanker Alliance network, declares the option for a fifth tanker to be added to the previously contracted four 17,500 dwt IMO II product/chemical tankers. The sisters that will be delivered between 2019 and 2020 are to be built at Avic Dingheng Shipbuilding Ltd in China.
By increasing the series from four to five sisters Thun, together with its partners in the Gothia Tanker Alliance, can further widen our client offering and the position as leading providers of safe, sustainable, and efficient transportation.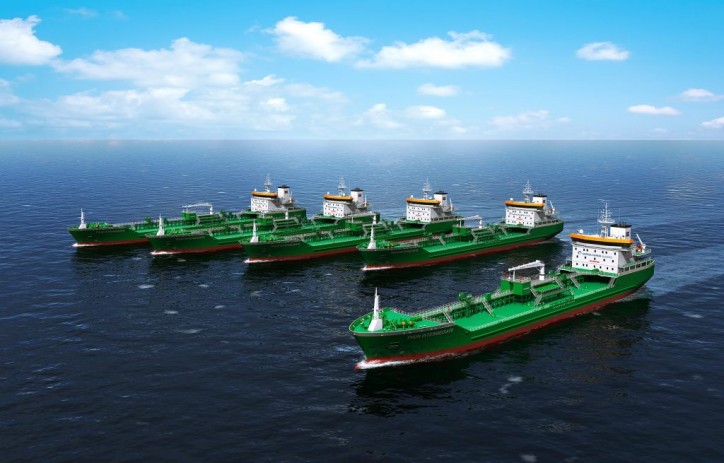 The contracted vessels will be built to the absolute latest design with focus on energy efficiency, sustainability, new regulations, and customers' needs as key in the design and building process. The tankers will be commercially managed by Furetank, responsible for the intermediate segment within the Alliance.
In addition to the five contracted intermediate vessels, Thun Tankers together with the Gothia Tanker Alliance partners Furetank Rederi AB and Rederi AB Älvtank have previously ordered another six 16,300 dwt high quality intermediate tankers with LNG propulsion. One of these six vessels will go to Thun, three to Furetank and two to Älvtank. These vessels, that currently are under construction, are being built at the same yard as the now contracted vessels and will be delivered between 2018 and 2020.
With latest contracted new-building, the Erik Thun Group currently has a total of twelve new-buildings on order. In addition to a total of six Thun owned intermediate size tankers being built, the group has contracted four 8,000 dwt tankers with LNG propulsion. These coasters will be built at Sheepswerf Ferus Smit in the Netherlands with delivery in 2018-2021. Thun are also building two 6000 dwt ice class 1A dry cargo ships at the same Dutch yard with delivery Nov 2017 and Feb 2018.
"All the ordered new-buildings are following our long tradition of carefully tailor making vessels to meet and exceed our clients' high demands," said Anders Källsson, CEO, Erik Thun AB.
New 17,500 dwt tankers details:
Delivery: From April 2019 to Jan 2020
Dwt: 17,500
Cubic: 21,000 m3
Ice class: 1C
Cargo Heating: Yes
IMO: Type II
LoA: 149.8 m
Beam: 22.8 m
Draft: 8.5 m
Coating: Phenolic Epoxy
Gothia Tanker Alliance New-buildings:
| | | | |
| --- | --- | --- | --- |
| Vessels | Owner | Dwt | Delivery |
| 4 coastal tankers (LNG fueled) | Thun Tankers | 7,999 | 2018-2021 |
| 1 intermediate tanker (LNG fueled) | Thun Tankers | 16,300 | 2018-2019 |
| 2 intermediate tankers (LNG fueled) | Älvtank | 16,300 | 2018-2019 |
| 3 intermediate tankers (LNG fueled) | Furetank | 16,300 | 2018-2019 |
| 5 intermediate tankers | Thun Tankers | 17,500 | 2019-2020 |
| Total: 15 vessels | | | |
Source: Gothia Tankers