On September 4, Hyundai Merchant Marine (HMM) announced that it has signed a formal contract with Daewoo Shipbuilding & Marine Engineering (DSME) for construction of five 300,000 dwt Very Large Crude Carriers (VLCC) with an option of five more vessels.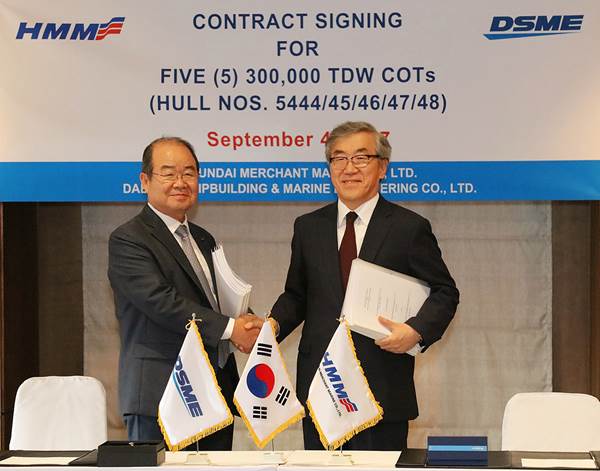 HMM's letter of intent with DSME for five VLCCs (+5 option) was signed back in April 2017.
Under the agreement, DSME will build five VLCCs for HMM worth approx. KRW 470 billion (USD 420 million) that will be financed by the New Shipbuilding Program.
As current market prices for new VLCCs have fallen to the lowest level since 2003, HMM considered this year is the right time to order new VLCCs to take a proactive action towards market change. The VLCCs are set for sequential delivery in the 1st half of 2019.
Mr. C.K. YOO, CEO of HMM said: "I expect this deal will help the Korean shipbuilding and shipping industries grow together." And that "HMM will develop itself as one of the world's most competitive shipping company."
Source: HMM