From now on, some 600 million beer bottles per year will be transported between Alphen aan den Rijn and Rotterdam by sustainable means. This is what the electric container ship BON JOVI, type Gouwenaar 2.0 – christened in Rotterdam on Saturday, 9 September – was built for. The well-attended christening ceremony was performed by Blanca Juti. As Heineken's Chief Corporate Affairs Officer, Juti bears responsibility for the Dutch brewer's sustainability agenda.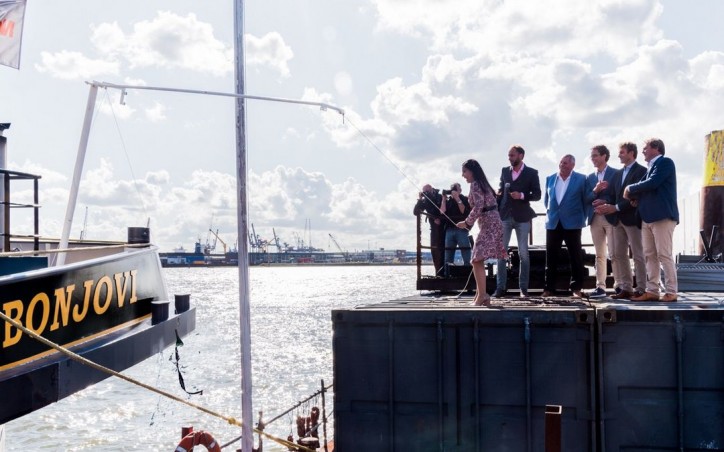 Ship characteristics
BON JOVI consumes 25% less fuel than other vessels with the same dimensions and is able to carry more containers. In addition, the ship experiences less drag thanks to its special hull design. As a result, the vessel only needs two 192KW diesel generators to power its electric propulsion system. This is equivalent to two of the standard diesel generators found in a contemporary car. To cut the vessel's CO2 emissions to virtually zero, there are plans to replace these generators by a hydrogen cell at some point in the next four years.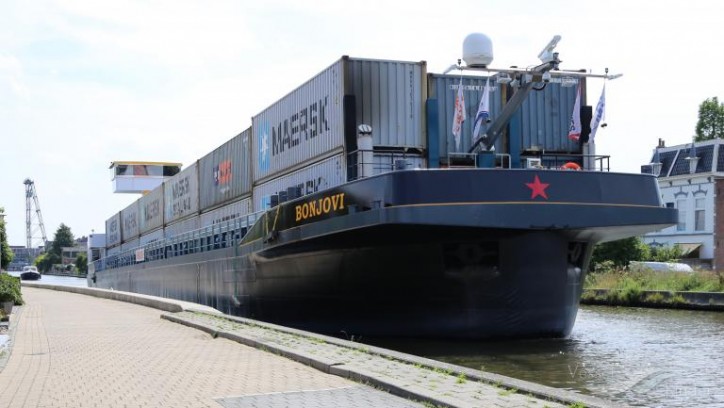 The Nedcargo ship was specially designed for the Alpherium inland shipping terminal in Alphen aan den Rijn. The company has an option to acquire a second vessel, which will be launched in mid-2018. In addition to these sustainable container ships, Nedcargo is also experimenting with electric trucks and HVO (sustainable biodiesel fuel).
Green Corridor
This is the very first ship to comply with EU requirements regarding the substantial reduction of inland shipping emission levels by 2020. As such, it forms an important next step in the realisation of a Green Corridor running between Zoeterwoude, Alphen aan den Rijn and the port of Rotterdam.
On 29 June 2017 a large number of companies, public authorities and research institutes – including Nedcargo, the Port of Rotterdam Authority and Heineken – signed a letter of intent. This document sets out the signatories' ambition to realise one of Europe's first sustainable corridors in this region. Some 20% of the total CO2 emissions of the Netherlands currently relate to activities in the traffic, transport and logistics sector. The signatories want to show that it is possible to take a different approach and believe that there is no reason why new business development and the achievement of climate goals can't go hand in hand. Through this initiative, they hope to set an example for similar logistics corridors in the Netherlands and abroad.
Source: Port of Rotterdam