Triton Knoll has today confirmed UK-based MPI Offshore Ltd as preferred supplier for the transportation and installation of its offshore wind turbine foundations and offshore substations.
The Stokesley (Teesside) based outfit is one of a string of top UK firms being announced as preferred suppliers to the project, and demonstrating Triton Knoll's commitment to providing UK value across both the supply chain and in terms of low-cost energy for consumers.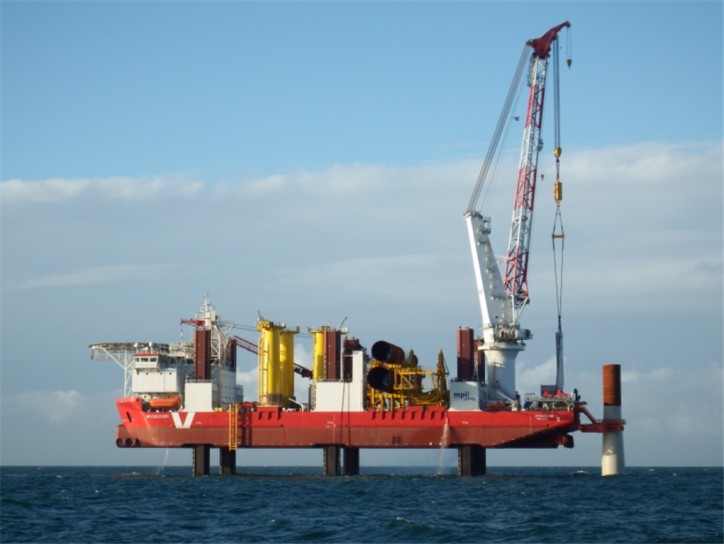 MPI will install a total of 92 monopile foundations and transition pieces, and two offshore substations in an all-weather inclusive turnkey operation. Additional scope includes the engineering, project management, quayside logistics and scour protection installation. The MPI Discovery (1) jack-up vessel will lift, transport and install all the foundations.
While still at preferred supplier stage, the wind farm project will now work with MPI to maximise the specialist's already strong UK footprint and realise its commitment of delivering at least 50% of UK content across the project lifecycle.
Triton Knoll Project Director James Cotter said: "We're delighted that, so soon after the CFD auction result, we are able to announce yet another major UK supplier, with whom we have worked closely to deliver both value and low cost energy generation for UK consumers.

"MPI already has a great UK footprint and engagement with the UK supply chain, and we expect to now work even more closely with them to build on that, as we progress towards contract completion and start of offshore works. We and our top tier contractors will be working with the most cost efficient suppliers to deliver this project and our commitments to UK jobs and contracts.

"MPI are an important part of our business plan, which aims to deliver at least 50% UK content over the lifetime of the project, while creating significant value for the UK and energy consumers from the delivery of our wind farm. As a UK-based industry specialist, and one of the world's leading offshore component installers, we are delighted to have MPI on board."
MPI Offshore has pioneered the offshore wind turbine and foundation installation business since 2003, and since then has partnered leading developers and utility companies in numerous wind farm construction projects, becoming the European market leader.
MPI Offshore Managing Director Tony Inglis said: "MPI Offshore is proud to be selected as preferred-supplier for foundations transport and installation within the Triton Knoll Offshore Wind project.

"Throughout the process of preferred supplier engagement, MPI Offshore has worked hand in hand with Triton Knoll's team to assist in building a responsive, collaborative team effort toward their successful CfD bid.

"With a strong UK footprint and project staff based in North East England, MPI brings a long, experienced history of wind-farm installation, while contributing toward Triton Knoll's goal of at least 50% UK content over the lifetime of the project.

"We are grateful to Triton Knoll for their faith in our ability and belief that we could be part of their collaborative team effort and look forward to an innovative and successful project."
Triton Knoll is a circa 860MW (4) East Coast offshore wind farm project, and expects to trigger a capital expenditure investment of around £2billion into much needed UK energy infrastructure. This will enable the delivery of some of the lowest cost energy generation for UK consumers. The CfD winning project is being developed as a joint venture between innogy and Statkraft, with innogy managing the project on behalf of the partnership.
The project is now progressing towards a financial investment decision likely in 2018 with full onshore construction starting shortly after, and offshore construction starting in 2020. First energy generation could be as early as mid-Q1 2021, with the project expecting to begin commissioning in 2021.
Source: Vroon