APL today announced the addition of Durres, Albania and Thessaloniki, Greece as new ports of call to its Mediterranean Express 1 (MX1) service; as well as Novorossiysk, Russia Black Sea and Poti, Georgia to the seaports which its Mediterranean Express 2 (MX2) service is calling.
The extended network of the MX1 and MX2 services demonstrates APL's emphasis on providing a comprehensive global connectivity. North Asian shippers with an interest to penetrate the European markets of Albania, Greece, Russia and Georgia can now rely on the enhanced MX1 and MX2 services for market access.
Currently, the improved MX1 service is calling the ports of Qingdao, Busan, Yangshan, Ningbo, Xiamen, Nansha, Yantian, Singapore and Malta where shipments are trans-shipped to Durres and Thessaloniki.
The refined MX2 service is now calling Qingdao, Yangshan, Ningbo, Kaohsiung, Hong Kong, Yantian, Singapore and Piraeus where cargoes are trans-shipped to Novorossiysk and Poti.
Below illustrations of APL's MX1 and MX2 services:
From Far East to Durres and Thessaloniki: via Mediterranean Express 1 (MX1), transshipped to feeder service at Malta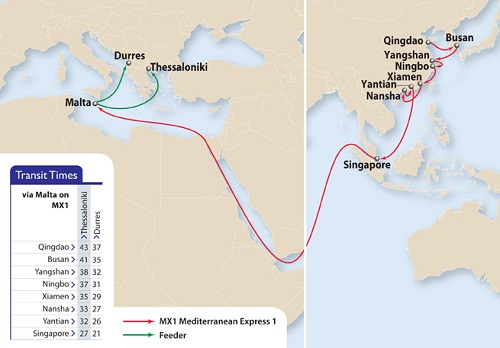 From Far East to Novorossiysk and Poti: via Mediterranean Express 2 (MX2), transshipped to feeder service at Piraeus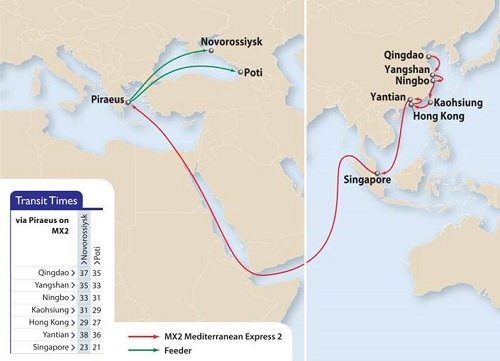 Source: APL