The Tommy Norton, a Damen Trailing Suction Hopper Dredger (TSHD) 650 built at Damen Shipyards Yichang has been officially delivered to her owner, Gippsland Ports.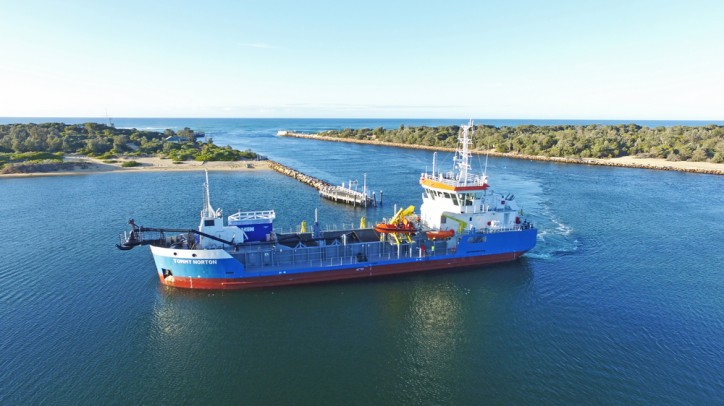 The first dredger to be built by Damen Shipyards Group for Australia, the 60-metre Tommy Norton has now started work to deliver safe and reliable ocean access for the commercial vessels, oil & gas suppliers and commercial fishing fleet that cross the entrance bar to the Gippsland Lakes area. The maintenance dredging also helps reduce the risk of flooding to local communities.
Capable of dredging to depths of 15 metres, the dredger has been built with bottom doors to enable self-emptying and can alternate between a bow connection and rainbow expulsion for beach reclamation work. In order to increase the vessel's payload capacity when dredging sand with a high specific density, Damen has reduced the freeboard of the vessel and applied a dredge mark.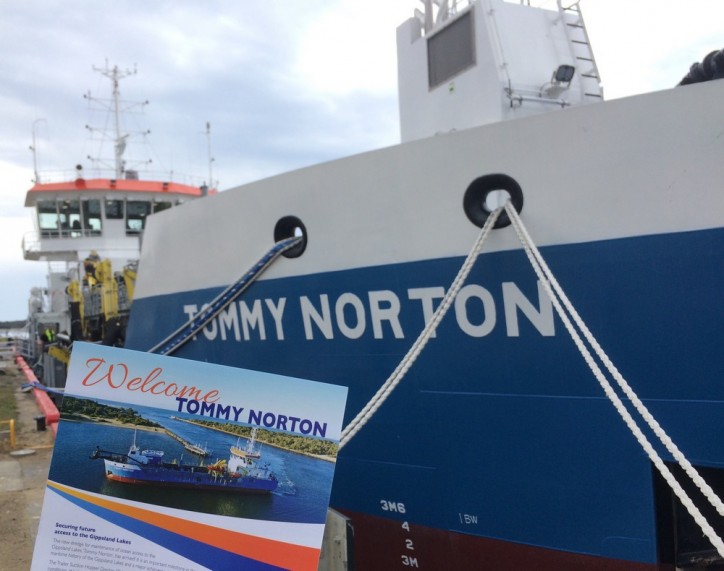 Geoff Hocking, the Chair of Gippsland Ports, stated: "Gippsland Ports is extremely proud to take delivery of the Trailing Suction Hopper Dredger, Tommy Norton. This project has been a significant undertaking by Gippsland Ports on behalf of the State of Victoria and we are delighted to have delivered an excellent vessel both on time and within budget.

"To have been able to achieve this outcome is testimony to the builder, Damen Shipyards Group and Gippsland Ports' project managers, supported by our appointed technical and quality support team. We anticipate Tommy Norton will provide decades of safer and more reliable bar crossing in the same manner as its namesake did in the 1870s prior to the creation of the artificial entrance."
In his speech at the delivery ceremony, Vincent Maes from Damen Shipyards summed up by saying, "I want to thank a lot of people who made this happen, but especially Mr Nick Murray and Mr Ambrose Rajadurai, both of whom were there from the start, and also our project manager Leo Van Dijck. All of you really made it happen, so congratulations for that! I wish you all the best, all the luck and a great journey with the Tommy Norton."
Source: Damen