The 17th of October was the inaugural day for the new Stena Line service between the Port of Nynäshamn and Gdynia. Ports of Stockholm welcomes this service that will enable more goods to be transported by sea directly to the growing Stockholm region.
The new Stena Line service between the Port of Nynäshamn and Gdynia in Poland began to operate on the 17th of October at 11 am with the arrival of the RoRo ferry Elisabeth Russ at the Port of Nynäshamn. The vessel will initially offer three departures each week from Nynäshamn and three from Gdynia.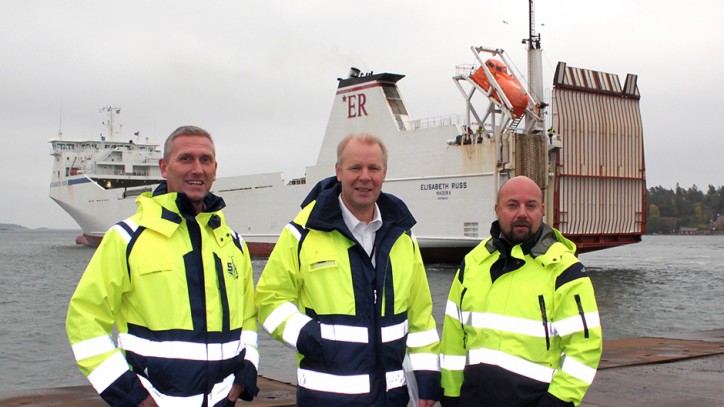 "We are seeing a steady increase in freight volumes at all of our ports and it is extremely pleasing that Stena Line, a long-term and successful customer, has now chosen to introduce an entirely new service from the Port of Nynäshamn," says Henrik Widerståhl, Deputy Managing Director and Head of Marketing at Ports of Stockholm.
This new service is a tangible example of creating alternative possibilities to use sea transport and to transport goods by sea directly to and from the growing Stockholm region. This is a better environmental alternative and alleviates the pressure on the country's already congested roads and railways.
"It is beginning to get a bit crowded at the Port of Nynäshamn and this new service emphasises the need for the new freight port, the Stockholm Norvik Port, which we are currently building just north of Nynäshamn. The new port will be ready for the first vessels to call in 2020 and will be able to to handle larger volumes of both containers and RoRo services," states Stefan Hansson, Chair of the Board at Port of Stockholm.

"Demand for freight capacity is growing steadily, both from Poland and Sweden, and this is an important step for us in meeting the increasing demand of our customers, while at the same time building for the future. We will continue to develop our operations to keep pace with the needs of the market and our customers, and this new service will be an important supplement to our existing routes over the Baltic Sea," says Niclas Mårtensson, Stena Line CEO.
Stena Line currently operates services between Nynäshamn and Ventspils in Latvia with the vessels Scottish Viking and Stena Flavia.
Source: Ports of Stockholm