Sanmar, Turkey's leading tug constructor has been building on its well-established reputation in the UK. Already this year it has delivered five tugboats to three different UK clients. The important ports benefitting from these latest deliveries are Aberdeen, Bristol, Hull, Middlesbrough and Southampton.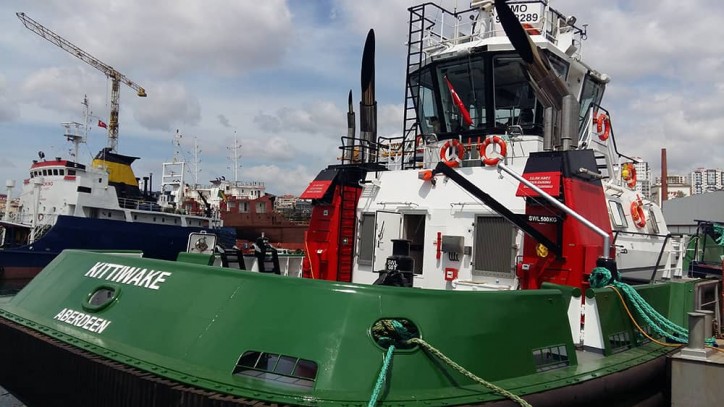 The most powerful of the tugs is Svitzer Adira, an 80 tonne bollard pull, 28m vessel already establishing a name for itself in the major port of Southampton. Svitzer Avon and Svitzer Marton for Bristol and Middlesbrough respectively are of identical length and hull form but with lower engine rating to give 70 tonnes bollard pull. Svitzer is an experienced operator of Robert Allan Limited designed/Sanmar built vessels – 19 examples are either in service or about to be completed.
Headquartered near Hull, Yorkshire but with wider UK operations, SMS Towage is another devotee of this designer/builder combination having now added the seventh to its fleet, named Superman. Whilst only 24.4m long, this exclusive to Sanmar compact RAL design, known as the Bogacay Class, packs a very healthy punch for its size with 70 tonnes bollard pull. The model is deservedly popular with 30 delivered worldwide and a further eight under construction.
The success of the Class and an astronomically quick delivery encouraged first time customer, Scotland-based Targe Towing, to purchase Bogacay 26 which was renamed Kittiwake on arrival in Aberdeen just two weeks after the order was placed. This version of the Class has slightly less main engine power to give greater fuel economy whilst still giving a powerful 60 tonne bollard pull with a superbly agile manoeuvrability.
All of the vessels mentioned above are of ASD configuration with fully azimuth thrusters, are fitted with external fire-fighting capabilities to Classification Society requirements and only the highest quality of components from the world's leading manufacturers are utilised. The quality of onboard finish and comfort, including the levels of noise and vibration reduction, is what is known as Northern European standards.
Sanmar has an extensive portfolio and the world's largest reference list of Robert Allan Ltd tug designs with examples now topping 150 in number.
Source: Sanmar Shipyards