Triton Knoll Thursday confirmed GeoSea as its preferred supplier for the transportation and installation of the ground-breaking MHI Vestas V164-9.5 MW turbines at the 860MW East Coast wind farm.
innogy's Triton Knoll Offshore Wind Farm will be one of the first in the world to install and operate MHI Vestas' V164-9.5 MW turbines, described by the supplier as the most powerful and efficient on the market.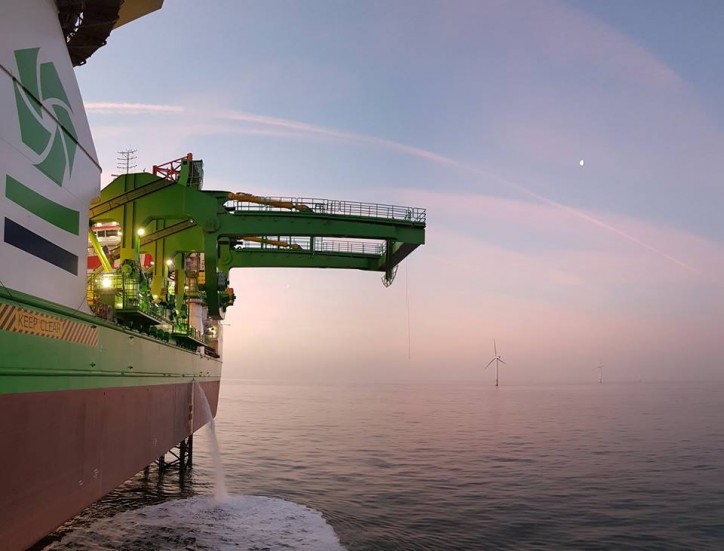 GeoSea would be due to start work in Q1 2021. Its contract includes the design and manufacture of the sea-fastening and tagline systems, and the transportation and installation of all 90 of the 164metre diameter turbines.
While still at preferred supplier stage, Triton Knoll will continue to work with GeoSea to maximise opportunities for UK businesses, as it works towards the delivery of its target of 50% UK content, throughout the lifetime of the project.
Now, just over a month after its successful bid into the UK Government Contract for Difference auction, Triton Knoll can confirm its full house of preferred suppliers, and is pressing ahead towards a Financial Investment Decision in mid-2018, with onshore works expected to start shortly after.
The full list of preferred suppliers at Triton Knoll Offshore Wind Farm is now:
Siemens Transmission and Distribution Ltd (STDL) – design and manufacture 1 x onshore and 2 x offshore substations. STDL will also install the onshore substation
J Murphy & Sons (JMS) – supply and install the almost 60kms underground onshore cable route
MPI Offshore – transport and install all offshore foundations and two offshore substations
MHI Vestas Offshore Wind – supply 90 of its V164-9.5 MW turbines
NKT and VBMS – supply and install all offshore export and array cables
Sif Netherlands B.V. and Smulders Projects Belgium N.V. – manufacturer monopile foundations for turbines and OSPs
GeoSea – transport and install all 90 wind turbines.
Jon Darling, Triton Knoll senior project manager said: "From the outset, Triton Knoll has worked collaboratively with its supply chain partners, to ensure that the business case we submitted into the Contracts for Difference auction can and will be delivered, effectively from the point of having won a CfD. It's because of this approach that we're already able to announce a wealth of preferred suppliers across our entire project, with UK firms playing a strong role in the delivery of the wind farm."
GeoSea has a strong track record in offshore wind energy projects in the UK, including Westermost Rough, Kentish Flats Extension, Race Bank and Galloper. The offshore installer is expected to commit a high capability/capacity installation vessel to the delivery of the contract.
Jan Klaassen, Business Unit Manager Offshore Renewables at GeoSea, said: "The collaborative approach adopted by Triton Knoll during the tender process together with GeoSea's leading position in providing state-of-the-art, integrated solutions for the offshore wind industry, has helped the project deliver a sustainable, low cost of energy. GeoSea will work alongside Triton Knoll to engage with UK suppliers and to help maximise UK content."
Triton Knoll is a circa 860MW East Coast offshore wind farm project, and owned by Innogy Renewables UK Ltd (innogy). The project expects to trigger a capital expenditure investment of around £2billion into much needed UK energy infrastructure, which will enable the delivery of some of the lowest cost energy generation for UK consumers.
The project is now progressing towards a financial investment decision likely in 2018 with full onshore construction starting shortly after, and offshore construction starting in 2020. First energy generation could be as early as mid-Q1 2021, with the project expecting to begin commissioning in 2021.
Source: Triton Knoll