The Port of Prince Rupert generated more than $1 billion in economic output for Northern British Columbia's economy last year, according to a study commissioned by the Prince Rupert Port Authority.
Marine, terminal, rail, truck and logistics activities in the region directly supported the work of more than 3,100 people. Earnings associated with that work totaled more than $260 million, revealing an average annual wage of more than $80,000.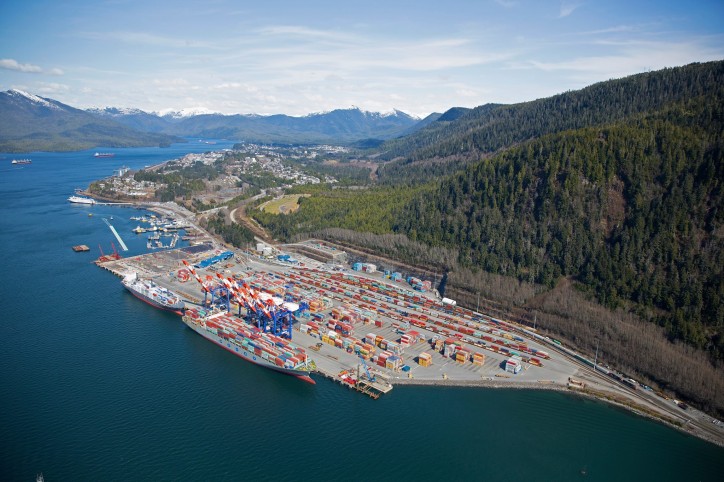 An analysis of Port employment revealed that half of the direct jobs were located in the Prince Rupert area, but also noted that hundreds of workers in communities throughout Northern BC were responsible for moving over $35 billion worth of international trade through the Port's rail, trucking and logistics supply chain.
In addition to employment benefits, Port activity also created an estimated $112 million in returns for all levels of government through personal, corporate and property tax revenues.
The study also provided a 10-year review of the Port's growth to coincide with the 10th anniversary of intermodal services through Fairview Container Terminal. During the last decade:
Port employment has grown by more than 1800 jobs
Annual economic output has increased by more than 260%
Annual government revenues have more than tripled
"The Port of Prince Rupert's success is built on the hard work of the women and men that contribute to safely moving cargo through the Gateway every day," said Joe Rektor, Interim President and CEO of the Port of Prince Rupert. "We're proud of the economic contribution we've been able to make over the past decade. We know we need to keep working hard to stay competitive and sustain that into the future."

"The expansion of the Port over the last 10 years has been felt in Prince George," said Lyn Hall, Mayor of Prince George. "Not only has it been a vital trade connection to Asia for businesses in BC's interior, it has led to high-paying jobs from supply-chain companies such as CN."

"Our community has benefitted greatly from the Port's growth, and we look forward to our continued participation in its bright future," said Harold Leighton, Chief Councillor of the Metlakatla First Nation.

"The last decade reflects our shared vision to become a truly global port city," said Lee Brain, Mayor of the City of Prince Rupert. "Prince Rupert is playing a key role in Canada's growth as a trading nation in the Asia Pacific, and we look forward to what the future has in store."
Source: Port of Prince Rupert