The LNG tanker Puteri Intan Satu has arrived at the Soma LNG Terminal in the No. 4 wharf of the Soma Port, Fukushima Prefecture which is owned by JAPEX, as the first cargo bringing LNG (Liquefied Natural Gas) to the terminal.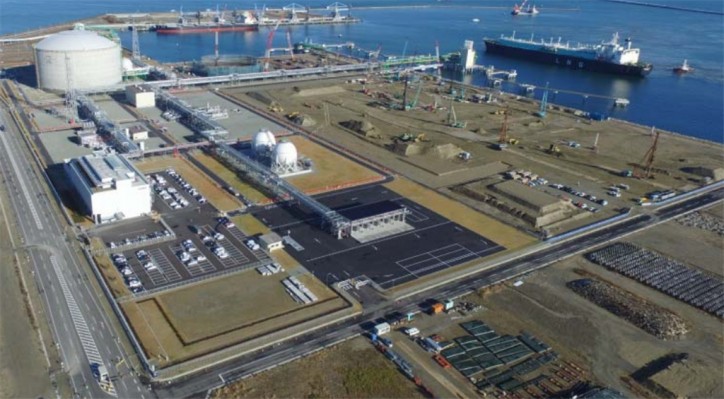 "Puteri Intan Satu" is an LNG tanker of PETRONAS Group, the Malaysian national oil and gas company, that have transported approximately 60,000 tons of LNG from Malaysia. It arrived at the ocean-going vessel berth of the Soma LNG Terminal yesterday morning, and unloading of LNG from the tanker will start as soon as it is ready. The transferring of LNG from the tanker to the LNG tank at the terminal will continue approx. one week.
The Soma LNG Terminal is a large scale LNG terminal composed of a ground-type LNG storage tank with Japan's largest class capacity of 230,000 kiloliters (approximately 100,000 tons), two berths for ocean-going and domestic vessels, LNG vaporization equipment, and loading facilities for tank trucks.
Commissioning of the terminal took effect from December 1, 2017, with the aim for the full commencement of operation in March 2018.
Using LNG delivered by Puteri Intan Satu, JAPEX will proceed to commission works of the terminal with safety operation as its top priority.
In view of consideration for the environment and safety, vaporized gas of the LNG which is generated by commissioning works will be burned. The flame will appear from the flare stack in the terminal during the burning of vaporized gas, in line with the established HSE procedures at the terminal.
Source: JAPEX