MERCOSUL Line, a leader in cabotage and "door-to-door" services in Brazil
In line with the Group's strategy to develop its intra-regional connections
CMA CGM Group, a world leader in maritime transport, announces that it has completed the acquisition of MERCOSUL Line. MERCOSUL Line is one of the leading players in Brazil's domestic container shipping market.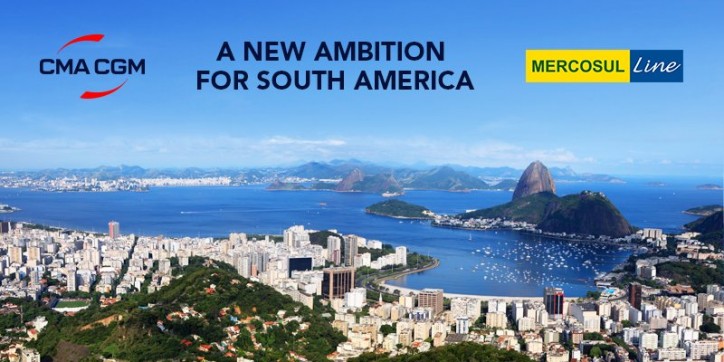 The acquisition of MERCOSUL Line allows CMA CGM to strengthen its service offering in Brazil, and more broadly in South America, especially in cabotage and "door-to-door" services. Established in 1996, MERCOSUL Line serves more than 12 ports with a fleet of 4 vessels of 2500 TEUs (Twenty-foot Equivalent Unit). MERCOSUL's network includes 130 people in its offices in Santos, São Paulo, Manaus, Recife and Itajai.
The activity of MERCOSUL Line is part of CMA CGM's core strategy, which is to develop intra-regional sea transportation links and complementary services such as logistics.
With a presence in Argentina, Brazil, Paraguay and Uruguay through 18 dedicated offices, CMA CGM Group employs 340 staff members in the East Coast of South America. More than 71 vessels operate on 9 different services and call 20 ports.
Related news: CMA CGM to acquire MERCOSUL from Maersk Line
Source: CMA CGM