The Finnish Transport Agency has made a decision to send this icebreaking season's first icebreaker to the Bothnian Bay. Arctia's IB Kontio departed the icebreaker base in Helsinki on Monday 18 December 2017 at 18:00 towards the initial operation area, the fairways to Tornio, Kemi, Oulu and Raahe. Last year the first icebreaker began fairway icebreaking on Finnish waters on December 8th.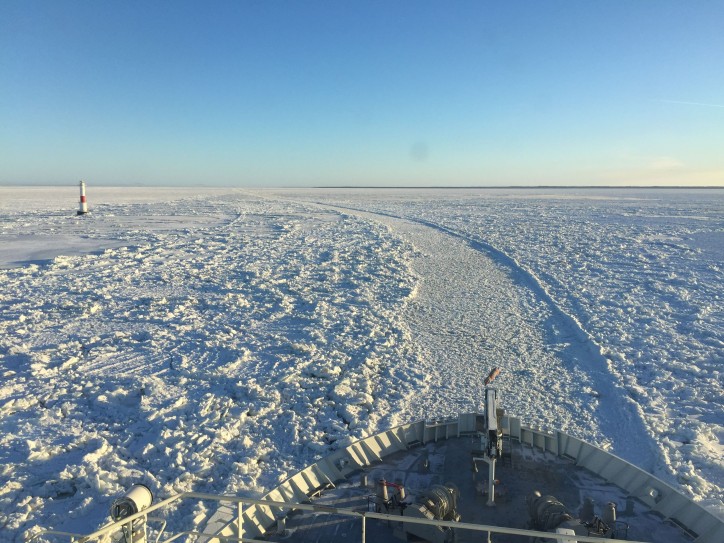 According to the latest Finnish Ice Report, there is 10-30 cm thick fast ice in the inner archipelago in northern Bay of Bothnia. Off the fast ice there is thin close ice and new ice to Kemi2 and Oulu5.
Arctia Ltd. is a limited company that owns and operates a fleet of eight icebreakers. The company's line of business is the provision of icebreaking services, ice management and specialised multipurpose vessel services, along with the management and chartering of ships in Finland and abroad. In July 2017 Arctia's multipurpose icebreaker Nordica crossed the Northwest Passage (NWP) for the second time. The vessel currently holds the records for both the earliest and the latest season transits of the NWP.
Arctia Ltd. continues the 140-year-old Finnish icebreaking tradition by deploying one of the strongest icebreaker fleets in the world. In Finland, icebreaking services are financed through a market-driven system based on fairway dues. During Arctic summer when the fleet is not required in the Baltic Sea, Finnish icebreakers are available for charter missions in polar areas.
Source: Arctia