Arctia's icebreaker Voima departed the icebreaker base in Helsinki as the Finnish icbreaking season's fourth icebreaker on Wednesday 7 February 2018. The Voima assists shipping in the eastern part of the Gulf of Finland. Arctia's icebreakers Kontio, Otso and Polaris already assist traffic in the Bothnian Bay.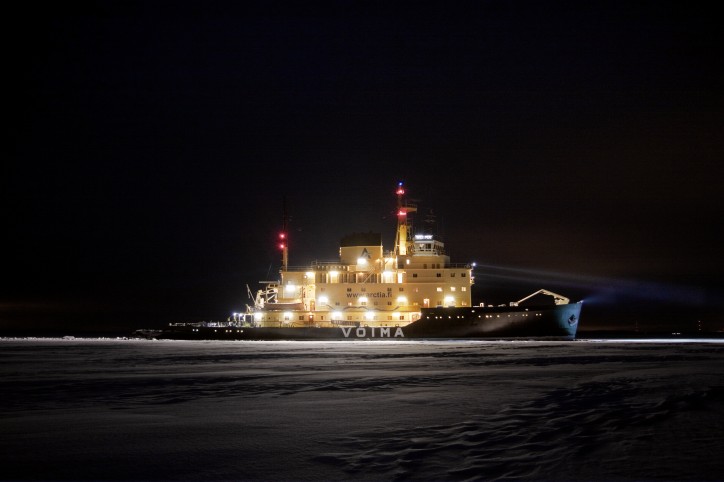 "First we will head to the area around Loviisa, Kotka and Hamina to check the ice conditions there. We will remain in the area and stand ready to assist traffic. Last year we began operations in the Gulf of Finland on February 15th, so this year the need for icebreaker assistance in the area has begun about a week earlier. The whole crew is of course looking forward to hard ice conditions, so we can do what we do best", states Toni Kovanen, Master of IB Voima.
Icebreaker Voima is the oldest icebreaker in the world still operational in fairway icebreaking. The vessel was commissioned in 1954 and completely renovated in 1978–79. In the summer of 2016, a comprehensive dry docking and life extension was made, ensuring operational capability for at least another 10 years. The sturdy-hulled Voima has demonstrated its reliability in the Baltic Sea over the decades and has served as a model for many four-thruster icebreakers built after it.
Arctia Ltd. is a limited company that owns and operates a fleet of eight icebreakers. The company provides icebreaking services, ice management and specialized multipurpose vessel services, along with the management and chartering of ships in Finland and abroad. In July 2017 Arctia's multipurpose icebreaker Nordica crossed the Northwest Passage (NWP) for the second time. The vessel currently holds the records for both the earliest and the latest season transits of the NWP.
Arctia Ltd. continues the 140-year-old Finnish icebreaking tradition by deploying one of the strongest icebreaker fleets in the world. In Finland, icebreaking services are financed through a market-driven system based on fairway dues. Finnish icebreakers are available for charter missions in polar areas.
Source: Arctia