Maersk's commitment to British customers continues, with enhanced product offering and strong focus on customer service solutions.
Manchester Maersk is the latest next-generation Triple-E vessel – the most modern in the fleet.
Maersk Line has just launched a new direct service from the UK to West Africa, improving reliability and creating new opportunities for British shippers.
In 2017, Maersk Line launched its second generation of Triple-E vessels, known for improved energy efficiency and environmental performance. On 25th February 2018, the latest vessel in that class, Manchester Maersk, made her maiden call to the UK and arrived in Felixstowe. With capacity to hold 20,000 containers, the British-named vessel is one of the largest container ships to call British ports.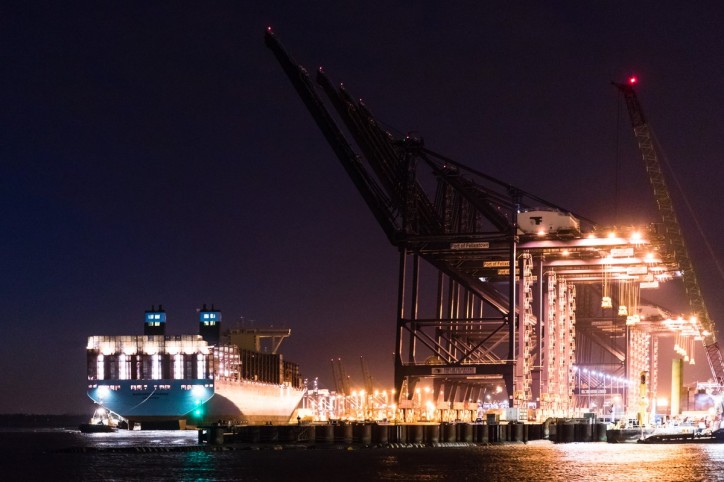 "The British name of the new vessel is a symbol of our long-lasting and mutually beneficial relationship with the UK and local customers", shares Brian Godsafe, Maersk Line's Managing Director for UK & Ireland. "What is even more important is our continuous commitment to serve the British market and provide services that support local trade ambitions and trigger growth."
New trade opportunities
While Manchester Maersk and her sister ships operate on the Asia-Europe corridor, Maersk Line supports British customers active on all trades and has recently launched a new direct service from Felixstowe to West African ports of Apapa, Tin Can Island, Onne (Nigeria) and San Pedro (Ivory Coast). The new connection addresses the need for greater reliability and improved connectivity to many other African destinations.
UK has strong trade links with the continent, being the biggest European overseas investor into Sub-Saharan Africa. The UK government is committed to fostering new opportunities in Africa after its departure from the EU through increased trade. "With our extensive network and expertise around the world, we are looking forward to supporting UK's trade ambitions", comments Brian Godsafe.
The North-West connection
Vessels in the new series are named after important cities in countries where Maersk has strong presence and significant share of business. It is therefore a recognition of the growing importance of the English North West, with its strong focus on investment in infrastructure and new business development in the region.
Maersk Line offers direct rail connections between Felixstowe and Manchester, as well as several other locations in the North-West, connecting local customers and their cargo to ocean services calling the south of the country. In addition, in 2016 the carrier's sister brand Seago Line introduced a direct short-sea service between the south of Spain and Liverpool, returning to the port on the Mersey after a 10-year absence.
Digital future
Service enhancements aside, Maersk Line's focus is on making customer experience more seamless through new digital solutions. Maersk is also working on improving supply chain visibility and has recently partnered with IBM to provide more efficient and secure methods for conducting global trade using blockchain technology.
In the UK, a customer service chat function has been introduced to cater for customers' need for real-time, simple and efficient support in solving their basic queries. "This reduces the turn time in reverting to our customers and allows us to quickly address their needs on daily basis", shares Brian Godsafe.
Source: Maersk Line