Arctia's multipurpose icebreaker MSV Nordica assisted the Finnish Border Guard in a maritime rescue mission to the west of Hogland island (Suursaari) some 35 km south of Kotka in the Gulf of Finland on the 8th and 9th of March 2018. The Rescue Mission Coordinator thanks the crew of MSV Nordica for their support and professional action in the situation.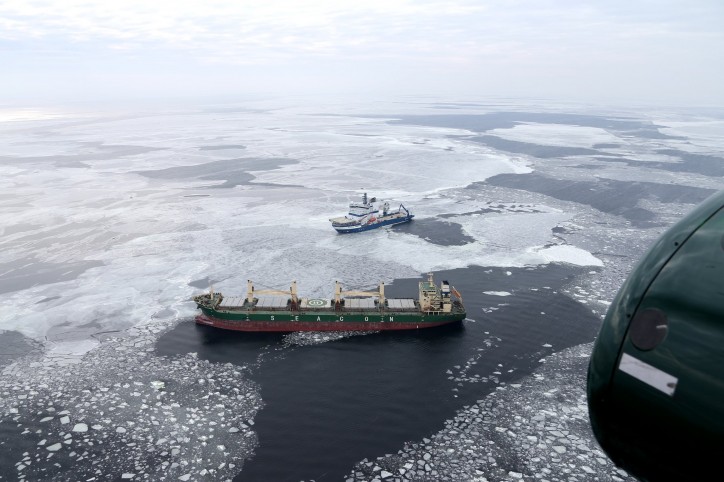 MSV Nordica was in icebreaking duty in the Gulf of Finland, when it was summoned by the Finnish Border Guard to head towards a freighter on international waters to the west of Hogland island at 12:45 on Thursday, 8 March. The Panamanian-flagged freighter was on its way to St. Petersburg, and according to the distress message there was water about five meters deep in the engine room.
The Nordica was the first vessel on the site and took on-site mission control as instructed by the Finnish Border Guard.
"We concentrated on maintaining a clear operational picture and conveying that to the responsible authorities. This was made harder by the limited English skills of the distressed vessel's crew", explains Matti Westerlund, Master of MSV Nordica.
The leak at the distressed vessel was managed during the evening. At 19:30 the patrol vessel Tursas arrived in the site and released MSV Nordica from on-site mission control.
"MSV Nordica's role on the site was significant. It prepared to evacuate the crew and assist the distressed vessel in limiting the damage. Necessary pumping equipment was moved by helicopters to the Nordica, from where it was easier to move to the vessel in distress", describes Rescue Mission Coordinator Tommi Karppi at the Finnish Border Guard.
The maritime rescue mission to the west of Hogland island continues and situation on the ship is stable. MSV Nordica was released from the situation on Friday 9 March at 11:25 to continue in icebreaking duty.
"I wish to warmly thank the crew of MSV Nordica and Arctia Ltd. for their invaluable support. Without the expert and prompt action by the Nordica, the situation would have been considerably more challenging. In addition to support in actual rescue tasks, the food supply on board MSV Nordica was excellent", states Rescue Mission Coordinator Karppi.
Source: Arctia