South Korea's Hyundai Samho Heavy Industries Co. affiliated with the country's largest shipbuilder Hyundai Heavy Industries Co. has completed building a very large crude-oil carrier (VLCC) fitted with an exhaust gas cleaning system that can meet stricter restrictions on sulphur oxide emissions that will come into force in 2020.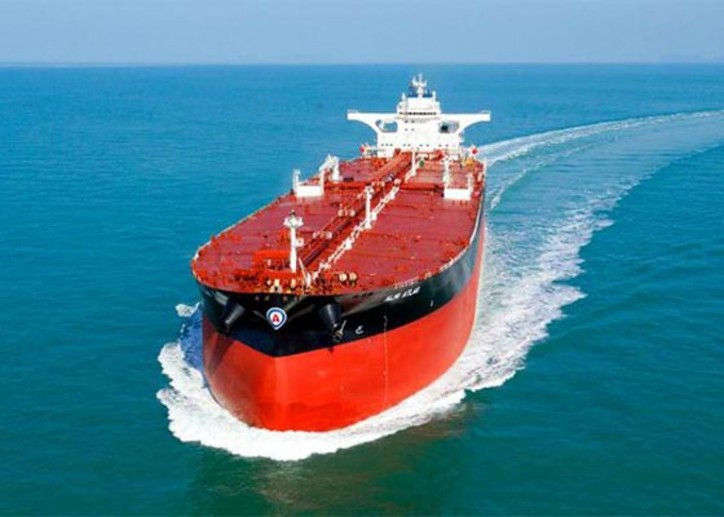 Hyundai Samho Heavy Industries on Tuesday held a naming ceremony for an oil tanker, one of the two VLCCs orders it won from Greek shipowner Almi Tankers S.A. in August, 2016. The 310,000-ton VLCC - which is 336 meters long, 60 meters wide, and 30 meters deep - is loaded with various facilities in the rudder and propeller that help improve energy efficiency and is also installed with a scrubber that reduces harmful emissions such as sulphur and nitrogen oxides that are regulated by the International Maritime Organization (IMO).
It is the first time for an exhaust gas cleaning system or scrubber to be loaded in a VLCC that helps reduce sulphur oxide emissions. The cleaning equipment - which is 11 meters high and 8.3 meters wide - removes sulphur oxides by cleaning waste gas with sea water. It reduces sulphur oxide emissions from over 3.5 percent of exhaust emissions content to below 0.5 percent, claimed Hyundai Samho Heavy Industries.
The Korean shipbuilder expects the successful construction of the environmentally-friendly vessel would help it move ahead of its rivals in the global green ship market. Hyundai Samho Heavy Industries is also building world's first liquefied natural gas-fueled oil tanker for Russia's shipping company Sovcomflot after it won the order in February last year.
An unnamed official from Hyundai Samho Heavy Industries said the shipbuilder is seeking to win more global orders.
According to British shipbuilding and marine industry tracker Clarkson Research Services, half of the world's total 92,000 vessels will be aged 20 years or more in 2020 when the IMO will be applying a new cap on sulphur in fuel oil, and about 10 percent of the total, or 8,000 to 9,000 ships, will need replacement.
Source: Pulse