DP World Australia announced yesterday the two ZPMC cranes delivered to the Brisbane and Sydney terminals in March have entered operations.
Brisbane Terminal's ZPMC crane entered operations on Thursday 5 April, with Sydney's crane added to operations on Sunday 9 April, both within schedule.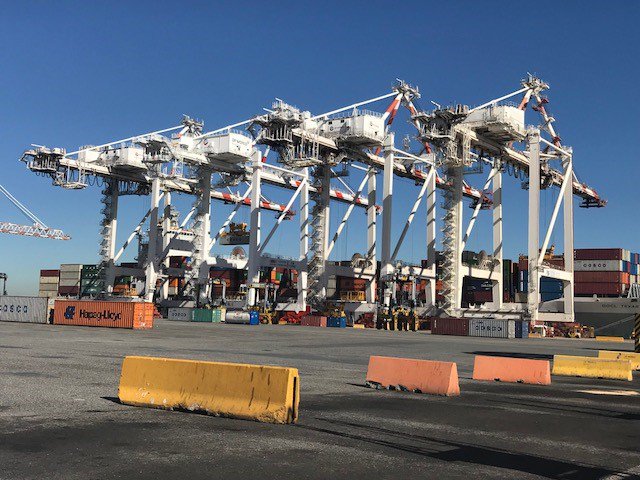 On the commissioning of the new cranes, Max Kruse, DP World Australia's Chief Operating Officer, Terminals said:
"The addition of the new cranes provides significant uplift to our operations, in both reliability and availability for our Sydney and Brisbane terminals.

"A welcome addition to our service, the cranes ensure our capability to meet the vessel fleet upsizing of our customers," he said.
The commissioning was completed by DPWA and ZPMC and involved thorough function and safety system testing with local teams, including crane operators.
"Our teams in Brisbane and Sydney have worked solidly to get these cranes into operation right on schedule," Mr Kruse said.
The two cranes for Melbourne, delivered in late March, are currently being commissioned and are expected to enter service by the end of May.
An additional five cranes are due in August for DP World Australia's terminals nationally, adding a total of nine new cranes to operations in 2018.
DP World Australia's national investment of $180 million in port equipment includes a total of nine cranes, 20 straddle carries, four RTGS, 38 forklifts and five ITVs.
"This investment across our terminals is our commitment to our customers and port users to ensure we are the supply chain and port operator of choice," Mr Kruse said.
Quick facts:
Each crane is worth $14 million
Rated capacity under spreader 65 tonnes and 75 tonne under heavy lift beam
Outreach of 51 metres, with a rail gauge of 25.3 metres
Hoist height above rail is 38 metres
Hoist speed 90 metres/minute loaded and 180 metres/minute unloaded
Cross travel speed 240 metres/minute
Source: DP Australia