KAWASAKI - Japan Marine Science (JMS) officially announced joining the Green Award scheme as a new incentive provider offering its training services at special prices to Green Award certificate holders.
Jan Fransen, executive director of the Green Award Foundation, congratulated Japan Marine Science with this step contributing to safer shipping. He presented a symbolic Green Award plaque to Mr. Koichi Akamine, President of Japan Marine Science at their office premises in Kawasaki.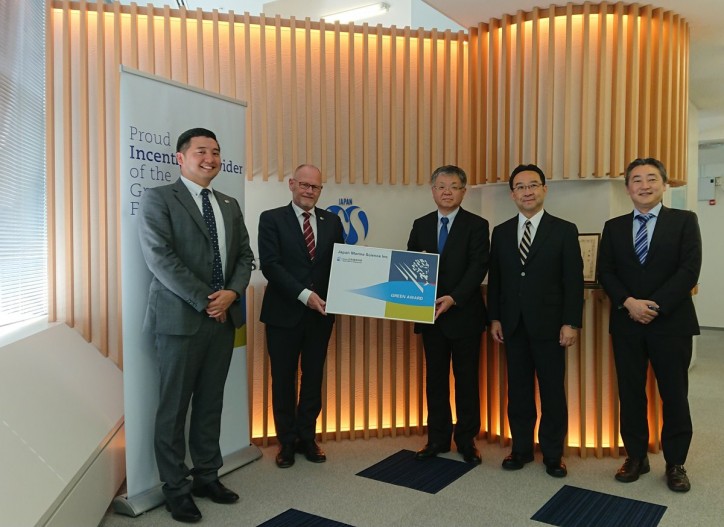 "On behalf of Green Award, a voluntary certification scheme for ships striving for excellence, I want to express gratitude towards your decision to provide a special discount on training fee to our certificate holders. It is very important for us that in all parts of the world the maritime industry demonstrates joint effort to improve shipping while mitigating its effect on the oceans. Recognition of Green Award's input in the strengthening of Corporate Social Responsibility in Asia is a remarkable achievement for us and helps to further promote sustainable and responsible shipping in the region."

"Green Award's activity policy is impressive and we expressed approval. It is a big honor to be able to participate as an Incentive Provider," Japan Marine Science commented. "We would like to contribute to the safety and environmental protection of the ship."
Green Award certifies sea-going and inland navigation ships that go beyond the industry regulations in terms of safety, quality and environmental performance. Green Award certificate is recognized by over 110 ports and maritime suppliers and services providers that reward the highest standards of ships' operations and management onshore by diverse incentives.
The basic vision of Japan Marine Science through its business activities is to change the maritime society through INNOVATIONS and the corporate mission is to be Asia's No.1 consulting and maritime information service company.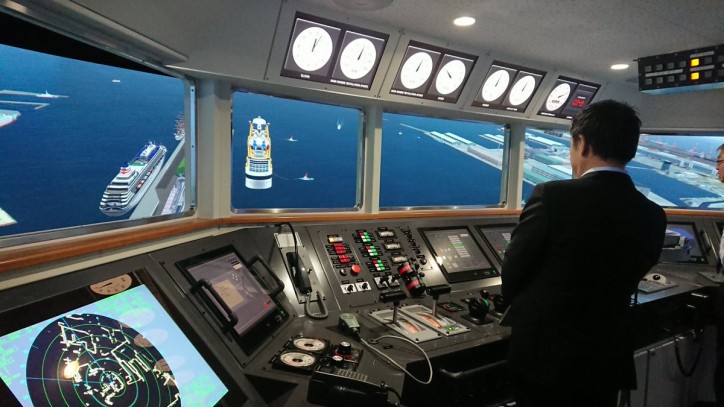 Japan Marine Science provides a wide array of services and products. Amongst them maritime consulting that provides support to ports and government policy-making; Ship Supervision and Survey Services - Safety Management Instructions for safe cargo handling supervision as charterer; Integrated Navigation Solutions for simplified and user-friendly navigation and Portable Navigation Equipment.
JMS is also an expert in Maritime Training and Ship Handling Simulator providing training solutions to meet the needs of the maritime industry. All Green Award certificate holders will receive a 5% discount on training fees. Through this reward JMS hopes to contribute to improvement of safety at sea.
About Japan Marine Science Inc
Japan Marine Science (JMS) was founded on September 1985 and with an office based in Tokyo. Presently, it now has around 80 employees and with branch offices at Kobe, Nagoya and Moji. The main office is now located in Kawasaki.
Since the inception of JMS and with the current president of the company - Mr. KOICHI AKAMINE, JMS aimed to make significant contributions to the maritime society through dedicated work practices in Advisory Consultancy, Research & Training and Turn Key projects.
With experienced marine consultants, JMS helps customers and clients identify and resolve problems in a wide range of fields including Shipping, Ship building, Port and Energy Industry.
In recent years, the consultancy services has diversified to include specialty fields such as Overseas & Social Policies, IMO related issues and Environmental issues.
As a guiding principle, JMS will continue to strive to contribute to the maritime society in a constructive manner. This principle will enable the company (JMS) to provide exemplary services to clients in the maritime industry.
In receiving this award, this will add a feather in a cap which will pave way for the company to further reach its MISSION and VISION.
Source: Green Award