Port Tampa Bay celebrated one of the largest ships ever to call at the Port, Vulcan Materials Company's newest vessel, M/V Ireland. Ireland arrived at Port Tampa Bay Sunday morning (Apr 22), after its departure from a China shipyard, and a stop in Mexico's Yucatan Peninsula to load its first shipment of limestone for delivery in Tampa.
The Tampa Bay region is undergoing significant growth and development, resulting in a huge appetite for construction and building materials, including limestone, cement, granite and steel: all key commodities handled at Port Tampa Bay.
This is Ireland's maiden voyage. Sunday, Marine Towing of Tampa shot off water cannons to welcome Ireland to Port Tampa Bay. On Monday, April 23rd, executives and dignitaries from Port Tampa Bay, Vulcan, A.R. Savage & Son, the U.S. Coast Guard, U.S. Customs & Border Protection, Tampa Bay Pilots, and Marine Towing of Tampa honored the vessel's arrival.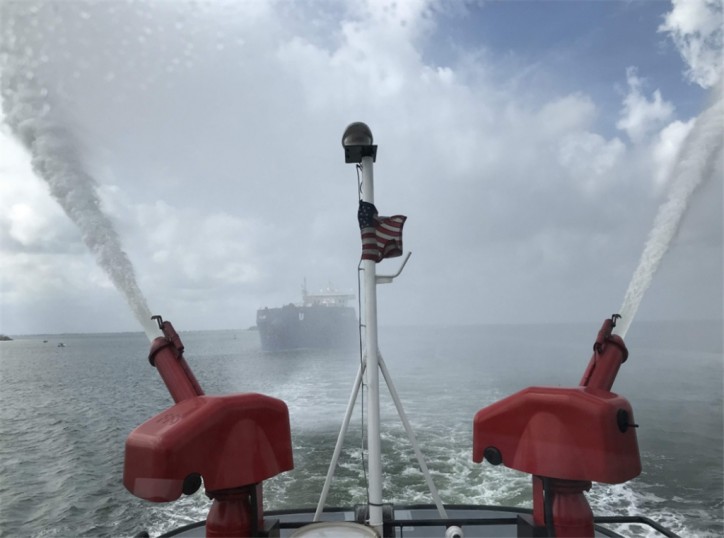 A recent forecast by Dodge Data & Analytics predicts that $13 billion will be spent on construction-related development in the Tampa Bay area through 2022. That figure, for both new construction and renovations, includes apartments, condos and commercial and institutional buildings.
Maritime Reporting & Engineering News recently named the 750 foot-long M/V Ireland one of the "Great Ships of 2017". The ship's gravity feed cargo discharge system consists of conveyors and a 260-foot discharge boom capable of unloading 4500 metric tons of cargo per hour. Designed by Deltamarin of Finland and constructed by Jiangsu Hantong Ship Heavy Industry of China, the 68,000 DWT M/V Ireland represents the state-of-the-art for self-unloading bulk carrier vessels. Site supervision for the ships construction was done by Fleet Management of Hong Kong.
Headquartered in Birmingham, Alabama, Vulcan Materials Company is the nation's largest producer of construction aggregates—primarily crushed stone, sand and gravel. Vulcan is also a major producer of aggregates-based construction materials, including asphalt and ready-mixed concrete. Vulcan has been a tenant of Port Tampa Bay since July 1991, leasing 23.4 acres of land adjacent to berth 30 at Pendola Point. Vulcan imports more than one million tons of limestone per year from Mexico's Yucatan Peninsula to Port Tampa Bay and is a major supplier to the region's rapidly expanding construction sector.
Source: Port Tampa Bay