The final turbines at the world's largest offshore wind farm, off the coast of Cumbria, have now been installed.
All 87 turbines are now installed at the Walney Extension wind farm, which is a shared-ownership project between Ørsted (50%) and two leading Danish pension funds PFA (25%) and PKA (25%).
The 659MW wind farm has been installed in two phases utilising turbine technology from two leading manufacturers – MHI Vestas and Siemens Gamesa – with Seajack's Scylla vessel installing all turbines.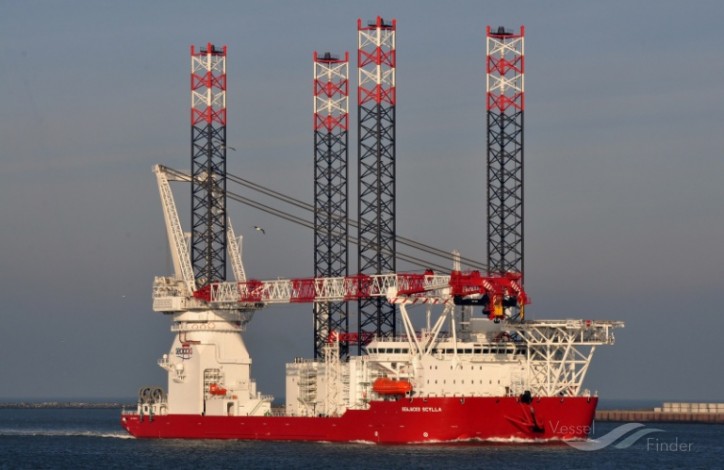 MHI Vestas Offshore Wind has installed 40 of its 8MW turbines, which have each been optimised to deliver a maximum output of 8.25MW.
The first ever Siemens Gamesa 7MW turbines to be used in the field world-wide are also now installed. These 47 turbines complete the installation work on the project, which will become the world's largest offshore wind farm once fully operational in the second half of 2018.
Work is now continuing on the commissioning of the turbines and substations. When fully operational, Walney Extension will be capable of generating enough clean energy to meet the annual electricity demands of more than half a million UK homes.
Speaking on behalf of Ørsted and partners PKA & PFA – Andrew Cotterell, Walney Extension Programme Director at Ørsted, said: "We're delighted to announce that all 87 turbines have been installed. It's thanks to the hard work of all the teams involved, both within Ørsted and our partner contractors, that we have successfully reached this significant milestone on schedule. We are now focussed on completing construction and looking forward to seeing the world's largest wind farm brought safely into commercial operation later this year."

"Walney Extension is a prime example of the UK leading the way for offshore wind globally – demonstrating the commercial viability of the latest turbine technology from MHI Vestas and Siemens Gamesa, as well as the strength of the rapidly growing UK supply chain with blades manufactured on the Isle of Wight and in HullHu."

Clark MacFarlane, MD of Siemens Gamesa Renewable Energy in the UK, said: "The installation of the 47th and final 7MW turbine at Walney Extension is another celebration of how the wind industry is developing and what can be achieved in a very short space of time when we work in partnership. The first of our turbines at Walney Extension was installed as recently as beginning of January and the wind farm is now up. This demonstrates why the cost of Offshore Energy has come down significantly and is now an affordable solution for the UK consumer. This is an industrial success story driven by Orsted and its partners, and one that Siemens Gamesa is proud to be part of."

MHI Vestas Chief Operations Officer, Flemming Ougaard, said: "Walney Extension is taking the next leap forward in the offshore wind sector. With the successful installation of 40 MHI Vestas V164 turbines at a power rating of 8.25 MW, Walney Extension now claims some of the most powerful wind turbines installed anywhere in the world. We are proud to take this step forward with Ørsted in helping the UK accelerate its green energy transition."
Construction of the project is being co-ordinated from a base at the Port of Barrow, which already hosts the operating and maintenance teams for three other Ørsted offshore windfarms, Barrow, Walney and West of Duddon Sands.
As part of Ørsted's commitment to the region, a £15million Walney Extension community fund has been set up to support local projects and organisations. Each year, around £600,000 will be made available for the expected 25-year lifetime of the wind farm, with £100,000 of this ring-fenced for a 'Skills Fund' to promote education and support local students.
Blair Ainslie, CEO of Seajacks UK, said: "Seajacks is delighted with the performance of Scylla at Walney Extension. The hard work of our offshore and onshore teams has paid off and all 87 turbines have been installed ahead of schedule. We look forward to working with Ørsted on future projects where the Scylla's additional capability can be fully utilised on installation projects around the World."
Source: Seajacks