Guangzhou Shipyard International Company in China has just signed a contract with state-owned Algerian shipping company ENTMV for a large RoPax newbuilding. Danish OSK-ShipTech A/S is behind the design.
Danish design is a great export commodity and within ship design and naval architecture, owners want the Danish design expertise. OSK's design as well as the technical and commercial offer tipped the scales and saw state-owned Algerian shipping company ENTMV announcing Chinese Guangzhou Shipyard International Company (GSI) as the winners of the public tender that took place in 2016. Now, all the technical and commercial details are settled and the final contract has been signed.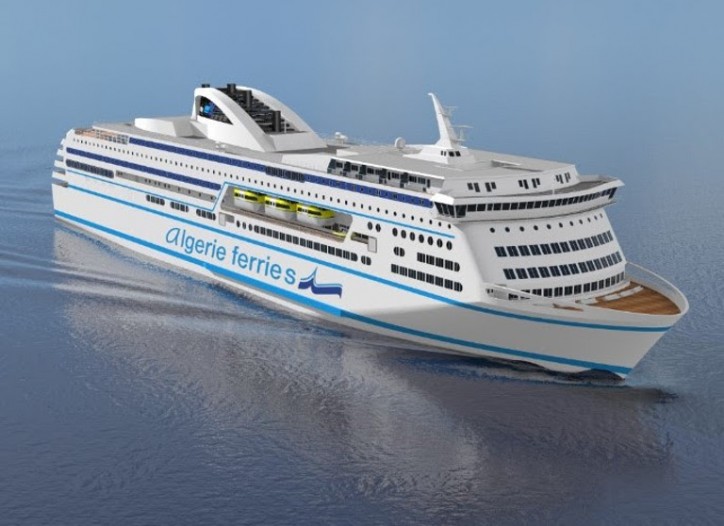 OSK-ShipTech A/S (OSK) is already working on the Approval Design for the new Algerian passenger ferry holding 1800 passengers, 180 crewmembers and more than 600 cars and putting their mark on all the interiors and facilities on-board. The new ferry will sail between Algeria and a series of larger cities in Southern Europa, e.g. Marseille and Barcelona.
GSI is among the most productive shipyards globally and they have previously teamed up with OSK-ShipTech on prestigious passenger ferries. For instance, GSI and OSK collaborated on the project for the newly contracted cruise ferries for Moby and GNV, where OSK also developed the design. And the contract for the Algerian newbuilding is another important step towards an even closer collaboration between GSI and OSK.
"China has a strong focus on the market of RoPax ferries and newbuildings, and we are very proud that GSI once again are choosing us as designers. The ENTMV-ferry is a dream project. We get to tailor the vessel completely so that it is fully optimised for the route – both with regard to design and operation as well as commercial flow and passenger experience. Hence, a project like this brings all our competences into play," says Kristian Carøe Lind, Chief Technical Officer at OSK.
Algeria's new RoPax ferry will be 200 m long, 30 m wide and will have a 6.7 m draught. The ferry will be propelled by four main engines, each 10.800 kW (58.000 brake horsepower in total), with a service speed of 24 knots – approximately 44 km per hour. The ferry's two car decks will hold over 600 cars on its more than 3000 lane metres, and accommodation decks will be divided in Cabin- and Economy Class with a total capacity of 1800 passengers.
Source: OSK-ShipTech