Today, Seaspan's Victoria Shipyards (VSL) celebrated the handover of Her Majesty's New Zealand Ship (HMNZS) Te Kaha at a ceremony in Victoria, BC.
The handover ceremony marks the transfer of care of HMNZS Te Kaha from the Royal New Zealand Navy (RNZN) to Lockheed Martin Canada (NYSE:LMT) and VSL. Today's event follows last month's formal announcement that VSL had been awarded work on the Frigate Systems Upgrade for the RNZN's ANZAC class frigates as a subcontractor for Lockheed Martin Canada.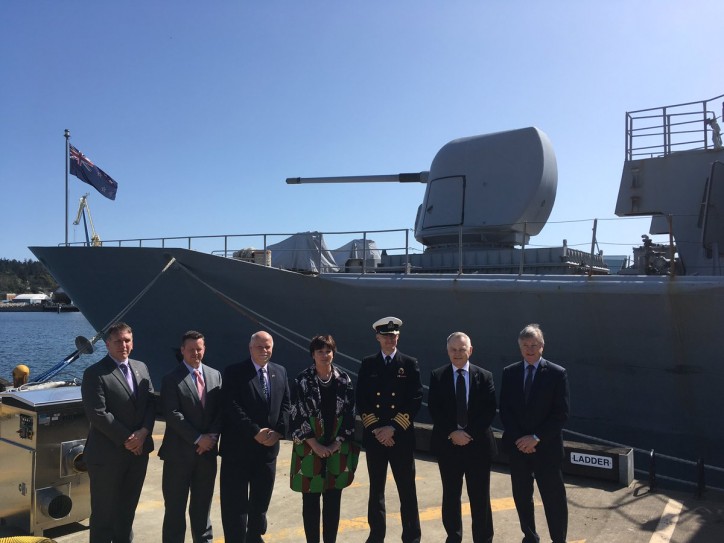 "Being awarded this project demonstrates Seaspan's Victoria Shipyards' capabilities as a leader in ship repair in North America," said Brian Carter, President & CEO of Seaspan Shipyards. "With this project, our company is building on its record as a trusted partner for both government and commercial clients in successfully managing complex projects."
Seaspan representatives were pleased to join New Zealand's representatives from the Ministry of Defence and the Royal New Zealand Navy, the Royal Canadian Navy, and Lockheed Martin Canada for the handover ceremony. With the handover complete, work will soon begin at Victoria Shipyards.
"In partnership with Lockheed Martin Canada, Victoria Shipyards is pleased to take care of HMNZS Te Kaha," said Joe O'Rourke, Vice President & General Manager for VSL. "Winning this work speaks to the capabilities of the women and men of Seaspan and leaves us well-positioned for realizing similar opportunities in the future."
HMNZS Te Kaha will undergo extensive upgrades to its surveillance, combat and self-defence capabilities. This will allow it to match current and future threats and address obsolescence of some of the frigates' current systems. The project builds on VSL's highly successful subcontract work with Lockheed Martin Canada and the Halifax class modernization project which is nearing completion both on time and on budget.
The opportunity to work on a foreign warship is rare in Canada's shipbuilding and ship repair industry. The project represents the first time that a foreign warship is to undergo a modernization in Canada since the Second World War.
"This contract is a significant achievement for B.C.'s industrial marine sector and demonstrates the world-class capabilities of our marine companies and the men and women employed by them," said Bruce Ralston, Minister of Jobs, Trade and Technology. "I would like to congratulate Lockheed Martin Canada and Seaspan Shipyards on this important milestone, which again proves that B.C. firms are among the best in the world."
HMNZS Te Mana, the RNZN's second ANZAC class frigate, is scheduled to arrive in 2019. Seaspan Shipyards will refit and install the new systems with an expected completion date of 2020 for the entire contract.
In addition to its work on the Halifax class modernization project, VSL provides in service support for Canada's fleet of submarines as a subcontractor to Babcock Canada. Beyond its work for government clients, VSL also manages a number of complex refit and repair projects, from cruise ships to specialized vessel conversions.
Source: VSL