Today starts the mobilisation of up to 2,400 women and men who will work to hook-up, finalize and eventually start-up the Johan Sverdrup field in the North Sea.
Later today approximately 150 people – plus crew from the flotel-operator ProSafe – will sail away onboard the floating accommodation vessel «Safe Zephyrus» from Mekjarvik outside Stavanger with the North Sea as their destination.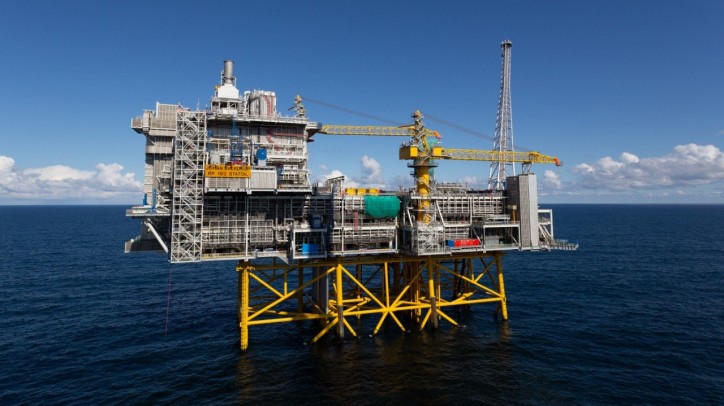 When the flotel arrives at the Johan Sverdrup field this weekend, this will mark the beginning of the offshore mobilization for the giant field which will be in production for more than 50 years.
"This is a big day for Statoil and the Johan Sverdrup partnership. Today we're sending the first group of people offshore to start the important work of hooking-up the growing Johan Sverdrup field centre and preparing for production start-up late next year," says Trond Bokn, senior vice president for Johan Sverdrup.
As soon as "Safe Zephyrus" arrives at its destination, the work to finalize the riser platform – the first topside installed at the field – begins. Soon after, hook-up preparations will begin for the drilling platform, the next topside to arrive in early June.
With two platforms in place, soon after the accommodation jack-up vessel – or jacktel – «Haven» will join "Safe Zephyrus" at the field to increase the bed capacity during the hook-up and finalization phase of the project to nearly 900 beds. Then as many as 2,400 people from Statoil and suppliers, spread across three shifts, will start calling Johan Sverdrup as their place of work offshore.
"Safety is important for everything we do in Statoil and in the Johan Sverdrup project. With several thousand people offshore in this next phase, it really brings this message home. High quality in execution has been one of the hallmarks of the Johan Sverdrup project so far. Keeping up such a focus on quality and safety in the phase we're entering into will be absolutely critical," says Bokn.
Safety is also high on the agenda for Torkjell Stangeland. He is, together with Wiggo Lønøy and Ann-Cathrine Holmen, one of the three platform managers who will be responsible for Johan Sverdrup operations after start-up. Stangeland will also be the first platform manager out on the field with the «Safe Zephyrus».
"There is a lot of excitement, I must admit. We've spent several years thoroughly planning each operation, and we have worked a lot with emergency preparedness. Yes, it will be very exciting to be among the first out there working on Johan Sverdrup, but to be honest what I think most about is the safety of everyone offshore," Stangeland says.

"At the same time, I know a lot of the folks on their way out also feel a lot of pride and joy. We've looked forward to this day now for many years, and now that we're here I can hardly wait to set sail and get started," he says.
Jez Averty, senior vice president for operations in the southern part of the North Sea, is equally excited about the next phase for the Johan Sverdrup development.
"The next North Sea giant will after start-up – with a peak production of 660,000 high value barrels per day with very low emissions – be one of the Norwegian continental shelf's best assets, so we clearly have a vested interest in this going well," says Averty.

"A lot of work remains, however, and there are no short-cuts to success offshore. To succeed requires that we remain alert and fully focused on completing the work ahead in a safe and compliant manner. And we have every intention to do just that," Averty concludes.
Facts about The Johan Sverdrup Field
Johan Sverdrup is one of the five biggest oil fields on the Norwegian continental shelf. With expected recoverable resources of between 2.1-3.1 billion barrels of oil equivalent, it will be one of the most important industrial projects in Norway over the next 50 years.
Johan Sverdrup will be developed in several phases. Phase 1 is expected to start up in late 2019 with production capacity estimated at 440,000 barrels of oil per day.
Phase 2 is expected to start up in 2022, with full field production estimated to peak at 660,000 barrels of oil per day. Peak production on Johan Sverdrup will be equivalent to 25% of all Norwegian petroleum production. The plan for development and operation (PDO) for phase 2 will be submitted during the second half of 2018.
PARTNERS: Statoil 40,0267% (operator), Lundin Norway 22,6%, Petoro 17,36%, AkerBP 11,5733% and Maersk Oil (a company of Total) 8,44%.

Source: Statoil