When we think about traveling on a cruise, honeymoons and retired people traveling the world do not come to mind. What you may not know is that they not only offer dreamy sunsets on the high seas but also exciting attractions that will take away your sleep. You may need to provide more money and with some consideration, you can save on makeup.
Here we present some of those curious activities that can be performed abortion of the ships of the class Quantum of the Seas of Royal Caribbean.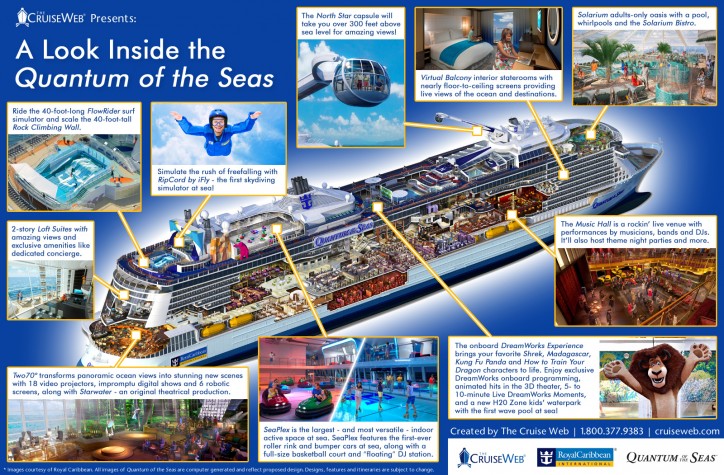 Rise on a giant crane, on a cruise
Looking at the maritime horizon while having a glass of wine is the classic definition of a romantic experience, right? Now imagine doing it aboard a giant crane 90 meters above the surface of the sea. We are sure that you would not have imagined it, but that is exactly what North Star is about.

They are glass observation capsules that rise above the pools and along the sides of the cruise. The 360 degree views are so impressive that they broke the Guinness Record as "The highest viewing deck on a cruise."
Fly, Cruise
It may be the last thing that crosses your mind when you book a cruise, but flying on board a ship is a reality. The Anthem of the Seas offers a unique attraction that elevates us through the air. IFly's RipCord is a flight simulator that all cruise passengers can experience. The "Flight" lasts 60 seconds but the induction and recommendations can take two hours.
Handle bumper carts
It is surprising that today many people still think that traveling on a cruise can be boring. The truth is that sailing does not have anything similar to boredom. In fact, there are many activities that can be considered "eccentric" like driving bumper cars in an indoor classroom.
Be served by a bionic bartender
Although alcoholic beverages are never included in the cruise, there is no more fun experience than attending a bar attended by mechanical arms. Of course, the interaction with the bartender will never be the same, however these robots will serve to take pictures and show off with friends.
With laser precision, the robotic arms work in perfect synchronization, assembling beverages designed to energize and captivate. Who knows? In one of those arms they find the perfect formula of our favorite cocktails.
To surf
No, we refer to surfing when you get off at a port but to do it on the deck of the cruise. That's right, just as if you had climbed the waves of the sea you can slide on a board as if you were in Hawaii. The surf simulator is one of the funniest places where kids and adults can spend endless hours of fun. Hopefully this article can provide valuable information for you and can inspire you to travel on a cruise ship. Enjoy your life!