The first visit to Kiel by Pullmantur Cruises (see also CruiseMapper) took place on Friday May 4th when the cruise ship "Zenith" berthed in the port with well over 1,000 passengers on board - most of them from the Iberian Peninsular. Onlookers at the Ostseekai Cruise Terminal enjoyed a memorable sight when "Zenith", accompanied by a water fountain display from one of the port's tugs, tied up very close to the "Mein Schiff 1" – the latest new cruise ship to join the fleet of TUI Cruises.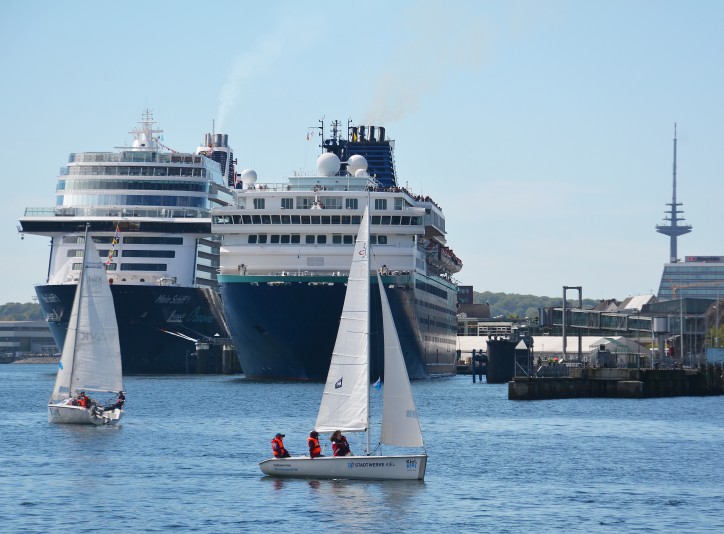 During an onboard reception afterwards, port head Dr Dirk Claus presented the ship's captain Ivo Botica with the traditional commemorative plaque awarded by the Schleswig-Holstein federal state capital to ships visiting the port for the first time. Dirk Claus, who is the Managing Director of the Port of Kiel said: "It is an honour that Pullmantur Cruises has, for the first time, included our port in its route planning. Kiel has much to offer to its international visitors and the port is also the stepping off point for day excursions throughout Schleswig-Holstein and to Hamburg.
During their visit, passengers have the opportunity to undertake a variety of excursions ashore. They range from tours of Kiel and the Hanse city of Lübeck to scenic tours of the local region of hills and lakes known as Holstein Switzerland and excursions to the seaside spa resort of Laboe. Other excursions take visitors to the city of Hamburg or to the World Natural Heritage site on the west coast.
"Schleswig-Holstein as a tourist destination", Dirk Claus observed, "is being increasingly recognised by international shipping companies. This year we expect 22 such visits during running cruises", he added. Since the Ostseekai Terminal is very close to the City Centre, Spanish and Portuguese passengers also have an opportunity to explore Kiel on their own. In the Stop-Over category, Kiel is part of the route planning this year for many prestigious shipping companies, among them Cunard Line, Fred. Olsen, Ponant, P&O, Saga Cruises, Holland-America-Line and Viking Ocean Cruises.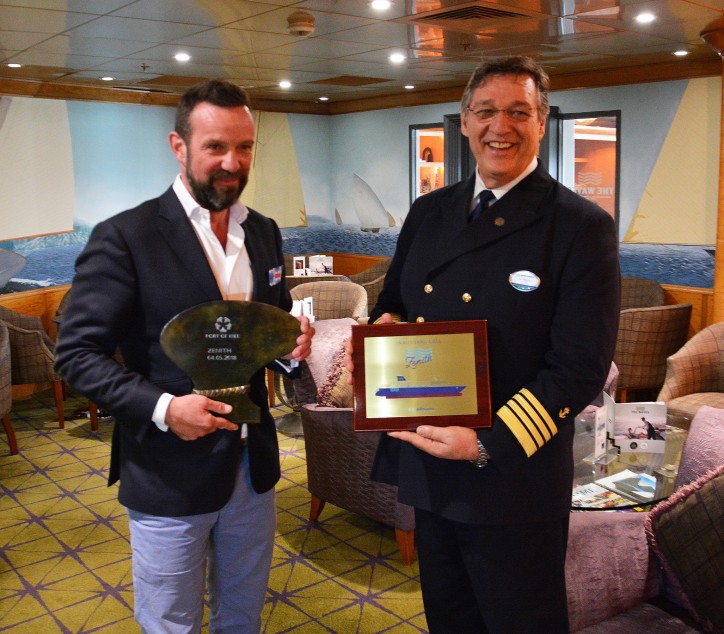 The 47,255 GT "Zenith", which is 208 m long and has 740 cabins, was built at Germany's Meyer Werft in Papenburg in 1992 for Celebrity Cruises. The ship was passed on within the Royal Caribbean Group to Spanish market leader Pullmantur Cruises in 2007.
The "Zenith" spent this winter season in the Caribbean before undertaking an Atlantic crossing which took her from Antigua to the Azores and from there to Lisbon. Her cruise around western Europe began in the Portuguese capital on April 27th and the ship reached the Kiel Fiord after stops en route in Vigo, Cherbourg, Dover and Amsterdam. In the evening, the "Zenith" sets a course for Rostock-Warnemünde at the close of her journey from southern to northern Europe. After Viking Ocean Cruises, Pullmantur Cruises is the second international customer to call at Kiel this year for the first time.
Source: Port of Kiel