UK-headquartered Newport Shipping has added to its global network of ship repair yards with facilities in Singapore, Indonesia and China, following the signing of a cooperation agreement with Singapore-based PaxOcean.
The agreement, specific to PaxOcean's Pertama (Batam, Indonesia), PaxOcean Singapore and PaxOcean Zhoushan facilities, brings Newport's tally of ship repair yards to six, totalling 13 drydocks and providing annual drydocking capacity for more than 1000 vessels.
Newport Shipping Group CEO Erol Sarikaya said: "We are delighted that PaxOcean has added three shipyards to Newport Shipping's network of shipyards. These three ship repair yards help to strengthen a growing portfolio of ship repair facilities around the world."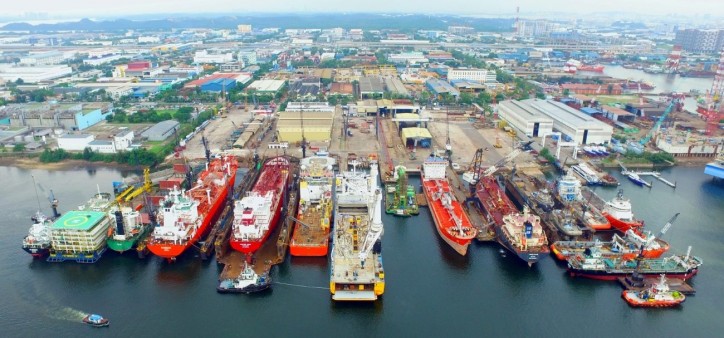 Newport Shipping Group already has cooperation agreements in place with the Zhoushan Longshan and Fujian Huadong shipyards in China, and the Cicek Shipyard, in Tuzla, Turkey. The company is also in the process of finalising agreements with other yards, coatings suppliers and original equipment manufacturers. While the group's repair yards are all strategically located within the lower cost regions of the Pacific/Atlantic trading zones, "they are all state-of-the-art facilities capable of handling all ship types and sizes and carrying out highly complex ship repair projects and retrofits," said Mr. Sarikaya.
"We now have the ability to offer a total annual drydocking capacity for more than 1,000 vessels, offering shipowners the freedom to drydock where best suits their operational needs."

Commenting on the decision to work together with Newport, Mr. Tan Thai Yong, Chief Executive Officer, PaxOcean Holdings Pte Ltd, said: "Newport's overall strategy to provide shipowners with a standardised drydocking for all their ship repair, maintenance and equipment upgrades complements PaxOcean's capabilities in executing and delivering quality, reliable and cost-efficient solutions.

"We found Newport Shipping's unique financing capabilities particularly attractive since vessels repaired at Newport's docks will be fully paid for before leaving the yard. This de-risks any payment problems and reduces considerably the shipyard's administrative burden." Another novel aspect to the cooperation agreements Newport Shipping has with its yards, is the procurement and delivery of equipment and spare parts for ship repair projects.

Roy Yap, Newport Shipping's Chief Operating Officer said: "The agreements we have in place with shipowners covers all maintenance costs in addition to drydocking costs, such as spare parts, equipment upgrades, specialist and retrofit works, such as those for BWTS or scrubbers. By procuring the delivery of spare parts upon vessel arrival, we help shipowners eliminate unnecessary time off-hire, while optimising project time and planning for the shipyard."
Source: Newport Shipping