Fure Vinga, the first of six LNG fueled 16,300 dwt tankers ordered at China's Avic Dingheng Shipbuilding by Sweden's Gothia Tanker Alliance, bunkered LNG for the first time in Europe on May 19.
The vessel received 120 tons of LNG fuel in a truck-to-ship operation in the port of Cartagena, Spain. In total, six trucks of LNG were transferred to the vessel.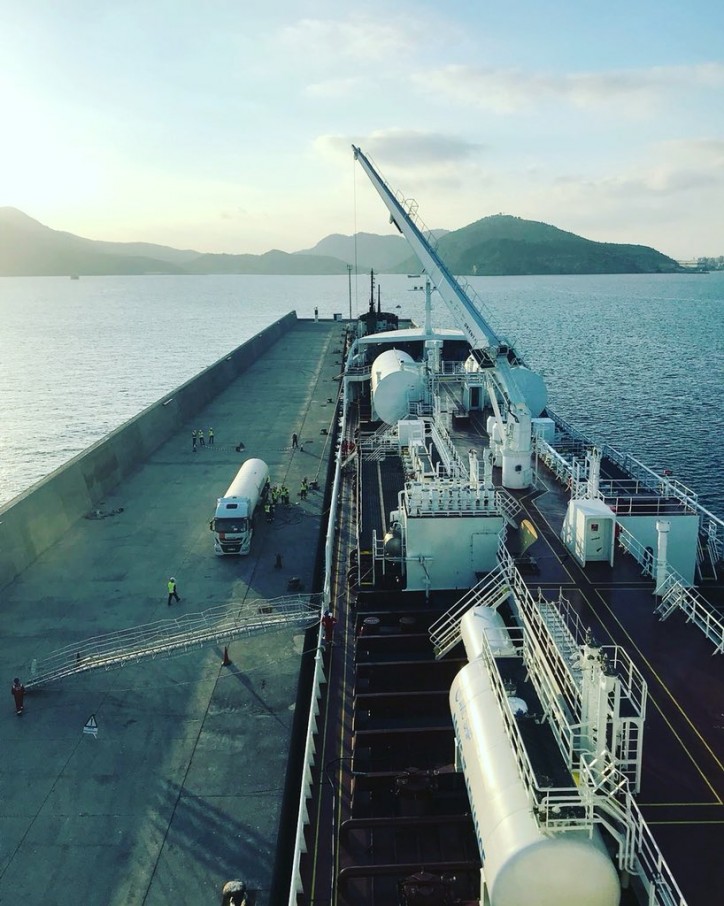 LNG specialists from Hamburg-based Nauticor GmbH & Co. KG (part of the Linde Group) and Madrid-based Gas Natural Fenosa joined forces and cooperated in the operation, underscoring the Europe-wide availability of LNG as marine fuel.
"We are glad that the first LNG bunker operation for Fure Vinga in Europe has been completed smoothly, thanks to the cooperation of all parties involved in the bunker operation, including the ship's crew and port authorities, as well as the profound preparation by Gas Natural Fenosa and Nauticor," said Lars Höglund, CEO of Gothia Tanker Alliance member Furetank.

"Combining our LNG expertise has made this bunkering a complete success, evidencing to the customer that the availability of LNG as a bunker fuel is improving by the day," said Mahinde Abeynaike, CEO of Nauticor.

"With this type of cooperation it is evident that the use of LNG as a marine fuel is an economical, real and available solution for shipping companies, guaranteeing supply in ports of different areas," said Joaquin Mendiluce General Manager of Gas Natural Comercializadora said.
The Swedish flagged Fure Vinga is the second LNG-fueled ship in the Furetank fleet. The company has been operating the retrofitted chemical tanker Fure West on LNG since 2015.
For Nauticor, which is already supplying LNG to Fure West in Northwest Europe, the cooperation with Gas Natural Fenosa showed new possibilities for LNG supply.
Nauticor has been a frontrunner in the development of LNG for maritime applications and has developed thorough experience and a dense network of LNG bunker locations in Northwest Europe over the last years.
Gas Natural Fenosa, headquartered in Madrid, is committed to leading the development of LNG bunkering in Spain and Portugal, both through individual arrangements, such as that made for Fure Vinga, and long-term contracts such one signed with ferry operator Baleària.
Source: MarineLog