On May 29, the naming ceremony for COSCO SHIPPING's fifth 20,000 TEU containership COSCO SHIPPING VIRGO was held at the shipyard of Shanghai Waigaoqiao Shipbuilding Co., Ltd. (SWS).
Leaders and guests participating in the ceremony included: Chairman and Party Secretary of China State Shipbuilding Co., Ltd. (CSSC) Mr. Lei Fanpei, Chairman and Party Secretary of COSCO SHIPPING Capt. Xu Lirong, Managing Director of Hutchison Ports Mr. Eric Ip, Executive Vice President of COSCO SHIPPING Mr. Huang Xiaowen, Vice President of CSSC Mr. Nan Daqing, Managing Director of COSCO SHIPPING Lines Mr. Wang Haimin, and Party Secretary of COSCO SHIPPING Lines Mr. Qian Weizhong. Wife of the managing director of Hutchison Ports Ms. Kanako Ip named the vessel, which began to serve as a strong and new member of the COSCO SHIPPING containership fleet.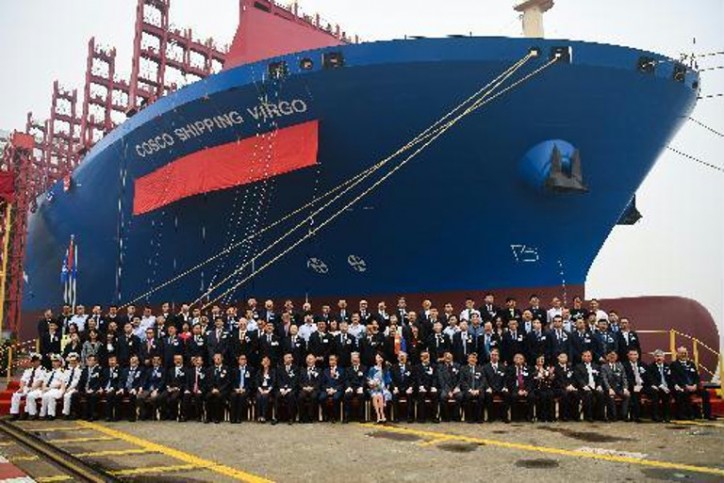 As a sister ship of COSCO SHIPPING TAURUS built by SWS, COSCO SHIPPING VIRGO is also the 5th 20,000 TEU containership that joins the constellation serial vessels of COSCO SHIPPING Lines. Together with other sister ships, it will serve on the Far East-Northwest Europe loop (AEU3) in a joint effort to boost the growing fleet capacity on the European routes, facilitate the building of a global service network of COSCO SHIPPING Lines, and provide faster and better end-to-end total shipping services to global customers.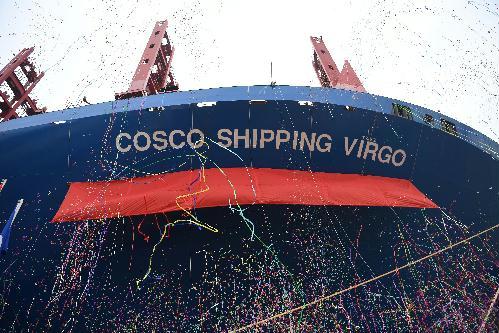 With a height that rivals Park Hotel, COSCO SHIPPING VIRGO is a real "giant" on the sea.
Jointly designed by the No. 708 Research Institute of CSSC and SWS, and listed as a national-level major innovation project, COSCO SHIPPING VIRGO has set a new record of ultra-large containership building and delivery in China.
With an LOA of 399.8 meters, molded beam of 58.6 meters, maximum draft of 16 meters, design speed of 22.5 knots/hour, and maximum deadweight of 200,000 tons, the vessel was classed by both DNV-GL and CCS. It has a deck area almost as huge as four standard soccer fields, and a height of 73 meters from bottom to top which is comparable to that of Park Hotel. While taking into full consideration the cargo type and actual needs of stowage, the vessel also boasts enhanced flexibility of container loading, and an improved payload of refrigerated and dangerous goods as well as heavy and high cube containers, with a maximum load of 20,119 TEU and fitted with 1,000 reefer plugs.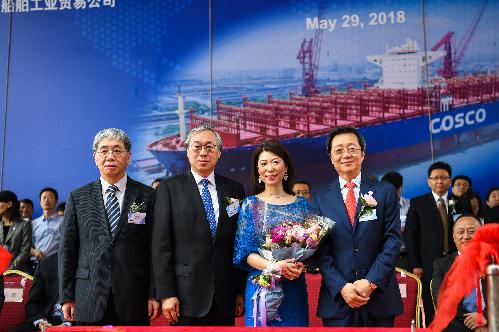 Moreover, COSCO SHIPPING VIRGO performs equally well in energy conservation and environment protection as a good example of green and low carbon transportation.
The design of its hull form has been improved with large-diameter high-performance propellers, a full balanced rudder with energy-saving devices, and an ultra-long-stroke engine to minimize the fuel consumption when the vessel is in operation.
As a result, the EEDI of COSCO SHIPPING VIRGO has reached the IMO 2030 standard, and the nitrogen oxide emission has also met the IMO Nox Tier II standard. Its energy efficiency management system provides the state-of-the-art tools to manage the ship energy consumption and realize intelligent ship management. Moreover, the vessel also meets the requirement of DNV-GL and CCS on "one man bridge operation" (OMBO). The bridge is furnished with the most advanced navigation management system, a LAN system across the entire vessel, and a ship-shore satellite communication system to ensure safe navigation and smooth ship-shore information exchange.
In the popular ancient Eurasian myths and legends, Virgo is the avatar of Demeter, the Goddess of Harvest. For COSCOS SHIPPING, the delivery of COSCO SHIPPING VIRGO heralds the coming of a new season of harvest.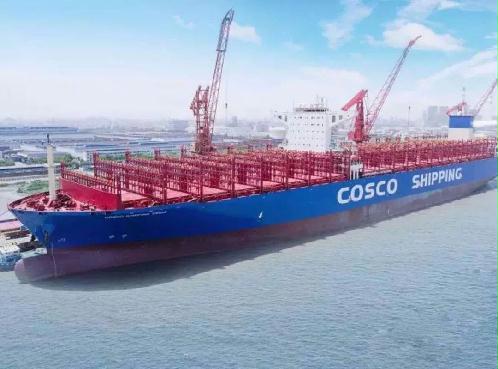 Source: Cosco Shipping