OOCL is honored to be the first carrier in the international transportation and logistics industry to receive the Gold Award at the 2017 BOCHK Corporate Environmental Leadership Awards ceremony held at the Kowloonbay International Trade & Exhibition Centre on 31 May, 2018.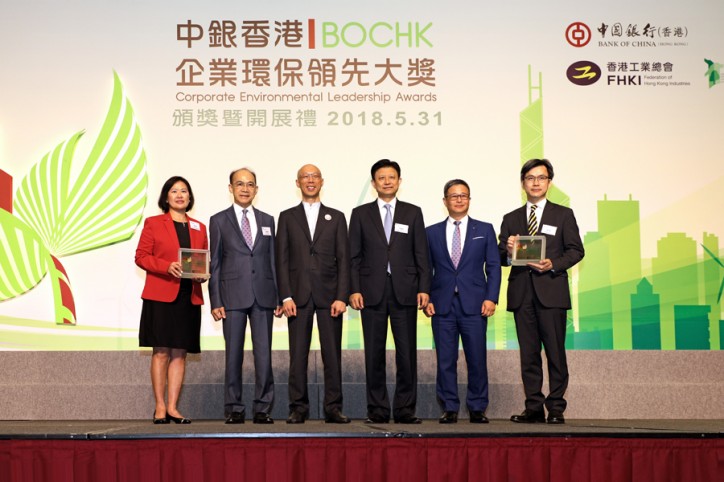 This distinguished awards program aims to acknowledge outstanding participating organizations for their efforts in promoting environmental and low-carbon best practices in the manufacturing and services sectors in Hong Kong and the Pan Pearl River Delta region following three rounds of assessments by a professional adjudication panel and independent assessors.
Reflecting on OOCL's achievement for this Gold Award, OOCL Group Treasurer Ms. Carrie Lee said: "This is a remarkable milestone for OOCL to win Gold for the first time and we are very honored to be selected among over 600 eligible applicants participating in the 2017 awards program. As a home carrier in Hong Kong with a global business footprint, we are very proud to do our part protecting the environment in the communities where we operate and to help set an example for other like-minded organizations to also contribute to environmental sustainability. Moving forward, OOCL will continue to grow our business responsibly while achieving the highest levels of operational excellence. "

Over the years, OOCL has been proactively taking on a leadership role in implementing many important initiatives to address global environmental challenges, part of which includes supporting the United Nations Sustainable Development Goals (SDGs), green investments on our assets, development of green IT solutions, as well as Greenhouse Gas management which contributes to the success and comprehensiveness of our overall sustainability profile.

Here are some specific projects and initiatives that contributed to our success in winning recognition for our work towards protecting the environment:

- In terms of marine life and biodiversity protection, we have been adopting strict ballast water management and treatment programs to prevent and eliminate the risk in the introduction and dispersal of invasive species into habitats where they do not belong. OOCL is also dedicated to protecting marine life through participating in the Enhancing Cetacean Habitat and Observation (ECHO) Program as well as prohibiting shipments for whale, shark, dolphin, and their related products.

- To further enhance our operational efficiency and Greenhouse Gas management, OOCL launched the largest containership in the world by carrying capacity, at 21,413 TEU, named the OOCL Hong Kong. Equipped with advanced green features to meet future environmental requirements, the energy efficiency of our G-Class containerships not only satisfies the current Energy Efficiency Design Index (EEDI) baseline requirement, but is 48% better than the EEDI level required by the International Maritime Organization.

- OOCL has been a leader in the use and development of green IT solutions in our business. The OOCL Carbon Calculatorallows customers to measure the carbon dioxide emissions in their supply chains so that they may choose the shipping routes that best meet their objectives. This tool also helps them enhance the disclosure and transparency of their greenhouse gas emissions data, thereby improving their overall sustainability reporting targets.
"Orient Overseas Container Line" and "OOCL" are trade names for transportation provided separately by: Orient Overseas Container Line Limited ("OOCLL") and OOCL (Europe) Limited respectively and both are wholly-owned subsidiaries of Orient Overseas (International) Limited, a public company (0316) listed on the Hong Kong Stock Exchange. Headquartered in Hong Kong, OOCL is one of the world's largest integrated international container transportation and logistics companies, with more than 360 offices in 70 countries. Linking Asia, Europe, North America, the Mediterranean, the Indian sub-continent, the Middle East and Australia/New Zealand, the company offers transportation services to all major east/west trading economies of the world. OOCL is one of the leading international carriers serving China, providing a full range of logistics and transportation services throughout the country. It is also an industry leader in the use of information technology and e-commerce to manage the entire cargo process.
Source: OOCL