Operations at Port Kembla have been suspended as firefighters continue to battle a large blaze that broke out on board self-discharging bulk carrier Iron Chieftain in Port Kembla early Monday morning.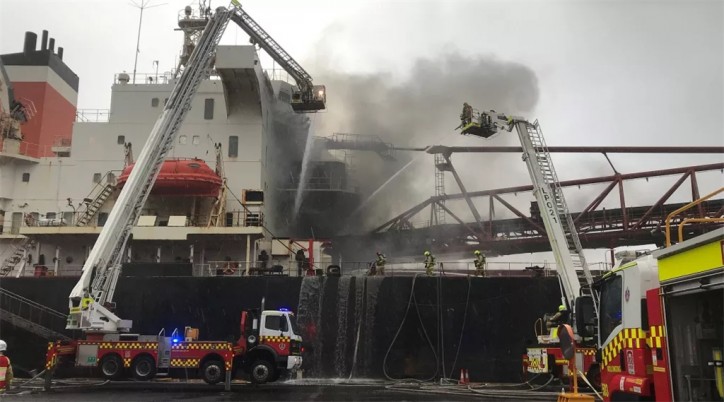 A large amount of smoke is still coming off the bulk carrier with about 100 firefighters battling the blaze that broke out in the ship's hold just after 3am LT.
The ship's crew were evacuated after the fire broke out and everyone had been accounted for. No injuries have been reported.
Tug boats are training a stream of water onto the side of the ship, which the Mercury understands roughly aligns with the engine room and is designed to cool the area down.
The Robot Bulldozer TAF20 has been on standby at the fire since 4.30am, but has not yet been utilised. It is capable of shooting water 80 metres into the air.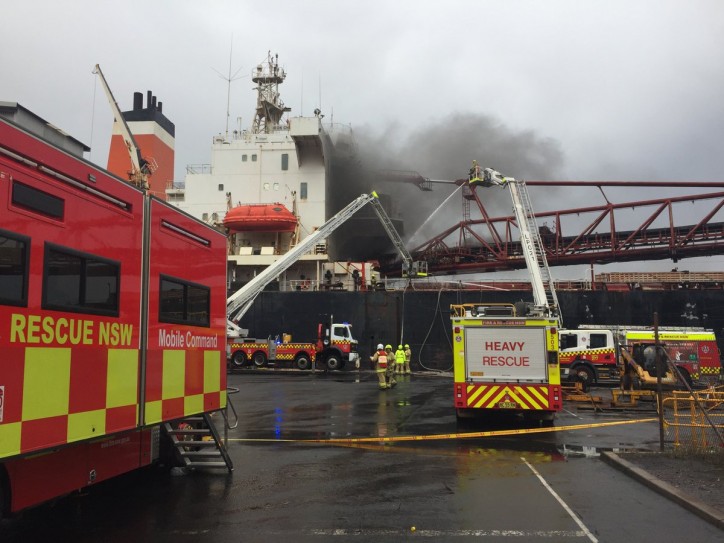 The Mercury understands it was considered for use when the fire spread to a conveyor belt.
Among the firefighting resources are two ladder platforms that are being used to battle the blaze from a height of 37 metres. It's understood firefighters are awaiting a special fire-fighting foam from Sydney.
Port Kembla Harbour Master Kell Dillon said a port emergency was declared at 3.40am which meant no ships were allowed to enter or leave the port from that point.
He said the ban on shipping operations would not be lifted until the fire is extinguished, likely to be later on Monday.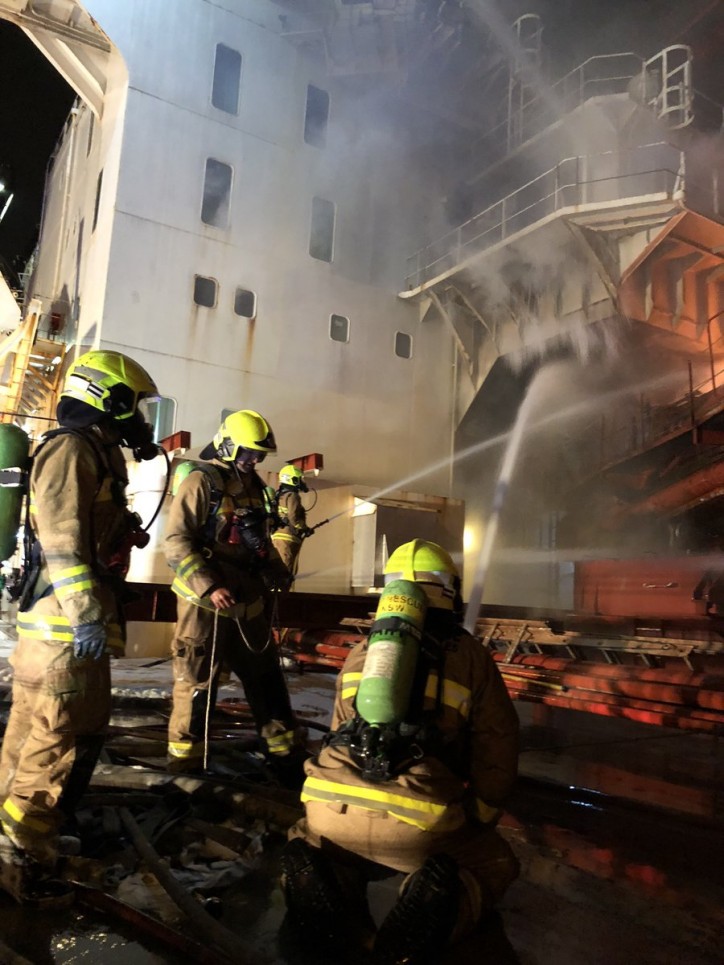 A spokesman for BlueScope said the fire started in the ship's hold and had gone part way down the ship's conveyor belt, which transports the dolomite from the ship's hold to the shore.
He said there had been no damage to the BlueScope plant or equipment and there was sufficient stock of dolomite on shore to continue steel production.
Police officers and the NSW Environmental Protection Authority are at the scene.
It's understood police are diverting traffic away from Christy Drive, Port Kembla.
The port, the second-largest coal export port in NSW and also the state's largest vehicle import gateway, counts among customers nearby coal mines run by BHP spinoff South32 and steelmaker BlueScope Steel. Neither responded immediately to requests for comment.
VesselFinder shipping data shows eight vessels at anchor in the port, mostly bulk carriers and roll-on, roll-off vehicle ships.
Source: SMH