The first agri-bulk vessel for global animal feed trader ADM Arkady arrived at Peel Ports' King George V Dock this week, containing more than 4,000 metric tonnes of animal feed.
The arrival of MV Arklow Ruler at the Glasgow-based port, marks a significant first milestone in the long-term contract between Peel Ports and the supply chain leader which was announced earlier this year.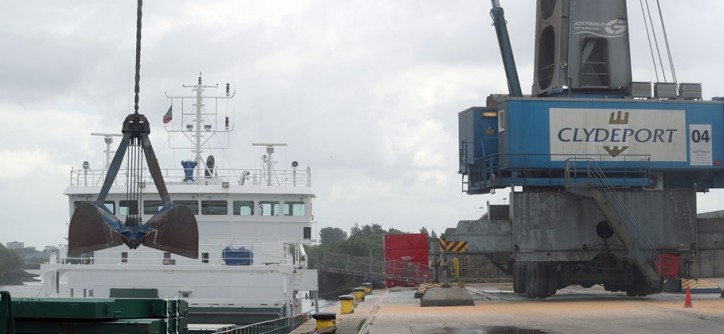 At around 90m in length and weighing in at around 6,965 tonnes the vessel arrived from France on Friday 15thJune.
Peel Ports have extensively refurbished the on port agri-bulks storage facilities at KGV to ensure the highest standards of compliance are achieved to bring them in-line with other Peel Ports operated facilities. The works also included investment in a new IT platform as well as plant and cargo handling equipment.
The TASCC and ATEX compliant warehousing will become ADM's new Scottish distribution hub.
Graham Atkinson, Managing Director, ADM Arkady said: "The arrival of our first agri-bulks vessel carrying maize marks a significant milestone in our partnership with Peel Ports and will soon be followed by an extensive programme of animal feed imports.

"Working with Peel Ports, we have been able to enter the Scottish market, helping transform ADM's global supply chain to the benefit of the UK's agriculture industry. The new ATEX and TASSC accredited facility operated by Peel Ports represents best-in-class and will help us maintain our exceptionally high standards"
As well as developing Peel Ports Glasgow port facilities, ADM Arkady, part of the Archer Daniels Midland Company, will also expand its northern hub operations in Liverpool and could see a combined throughput of 1 million tonnes of animal feed imports each year.
Andrew Hemphill, Port Director at Peel Ports Clydeport, said: "Since announcing our partnership, we have upgraded the storage and distribution facilities at KGV in order to accommodate ADM's business model and ensure an effective route to market for its products.

"By becoming the registered store keeper for this facility and making significant investments in upgrades, we have been able to bring the standard of operations in-line with our other UK facilities, providing a market-leading solution to our customer, ADM.

"The fact that we are welcoming the first agri-bulks vessel after just a few months, is a significant milestone and one we hope to build on as we work with ADM Arkady to support its UK growth."
Source: Peel Ports