Seaway Crude Pipeline Company LLC, operated by Enterprise Products Partners L.P. (NYSE: EPD), today announced the loading of its first Very Large Crude Carrier (VLCC), which has the capacity of approximately 2 million barrels of crude oil.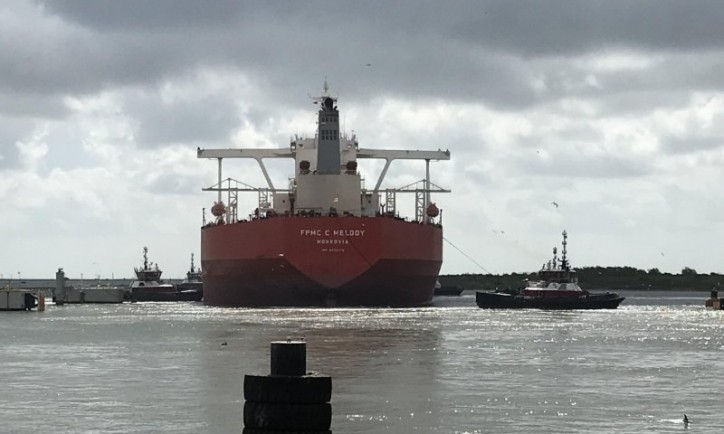 The loading took place at the company's marine terminal in Texas City, Texas June 22-24. The FPMC C Melody, chartered by Vitol, Inc., is the first VLCC to be loaded at a Texas port. The Texas City facility features two docks, a 45-foot draft, an overall length (LOA) of 1,125 feet, a 220-foot beam (width) and the capacity to load crude oil at a rate of 35,000 barrels per hour.
Approximately 1.1 million barrels of crude oil were loaded onto the FPMC C Melody at the Texas City marine terminal and the remainder of the crude oil shipment was loaded onto the VLCC in a lightering zone in the Gulf of Mexico.
"The loading of our first VLCC ship represents an important milestone for Seaway, as well as North American crude oil producers who benefit from greater efficiencies and cost savings," said Brent Secrest, senior vice president, Liquid Hydrocarbons Marketing for Enterprise's general partner. "Accommodating VLCC vessels reflects the midstream industry's commitment to providing an integrated solution that supports continued development of growing domestic crude oil reserves, while enhancing market access and solidifying the Houston Ship Channel region as the premier location for exports."
Seaway Crude Pipeline Company LLC is the owner of a pipeline system that transports crude oil from Cushing to the Gulf Coast, as well as a Gulf Coast distribution network, which serves local refineries and dock facilities at Freeport and Texas City, Texas.
Source: Seaway