Star Bulk Carriers Corp. (Star Bulk) (NASDAQ:SBLK), announced Friday that it has closed the previously announced acquisition of fifteen (15) operating dry bulk vessels (the "Vessels") from Songa Bulk ASA (Songa) for an aggregate of 13.725 million common shares of Star Bulk (the "Consideration Shares") and $145.0 million in cash (the "Vessel Purchase Transaction").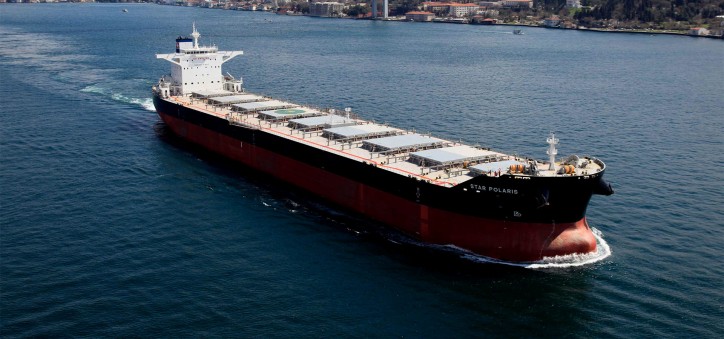 Following the closing of the Vessel Purchase Transaction, (i) Mr. Arne Blystad will be appointed to the Board of Directors of Star Bulk as Class C Director and Mr. Herman Billung will join the management team of Star Bulk as Senior Vice President and (ii) Songa is expected to distribute the Consideration Shares to its shareholders.
First trading day of the secondary listing of the Company's common shares on Oslo Børs, a regulated stock market operated by Oslo Børs ASA of Norway, is expected to take place by mid‐ July. The Consideration Shares will be restricted from trading in the U.S., including through the Nasdaq Global Select Market, for a period of six months following the distribution of the Consideration Shares to the shareholders of Songa unless they are sold pursuant to a transaction exempt from, or not subject to, registration under the Securities Act of 1933, as amended (the "Act").
The Consideration Shares will not be registered under the Act may not be offered or sold in the United States absent registration or an applicable exemption from the registration requirements under the Act.
About Star Bulk
Star Bulk is a global shipping company providing worldwide seaborne transportation solutions in the dry bulk sector. Star Bulk's vessels transport major bulks, which include iron ore, coal and grain and minor bulks such as bauxite, fertilizers and steel products. Star Bulk was incorporated in the Marshall Islands on December 13, 2006 and maintains executive offices in Athens, Greece. Its common stock trades on the Nasdaq Global Market under the symbol "SBLK".
On a fully delivered basis, Star Bulk will have a fleet of 108 vessels, with an aggregate capacity of 12.26 million dwt, consisting of 17 Newcastlemax, 18 Capesize, 2 Mini Capesize, 7 Post Panamax, 35 Kamsarmax, 2 Panamax, 16 Ultramax and 11 Supramax vessels with carrying capacities between 52,055 dwt and 209,537 dwt.
Source: Star Bulk