Navis, the provider of the industry standard for loading computers for container vessels, has been selected to equip six 1,900 TEU fully cellular, gearless container vessels with MACS3 loading computers, currently being built at Nanjing-based Jinling Shipyard in China.
The sister vessels with the hull numbers JINLING9160402 - 9160405 and SHAN1244 – 1249, are designed to serve the Intra-Asia trade and will join the fleet of the Shanghai-based owner Zhonggu Shipping starting in 2019. The on-board loading instrument MACS3 fulfills the requirements of the Chinese Classification Societies (CCS) with regard to stability calculations for sea-going and inland waterway transports.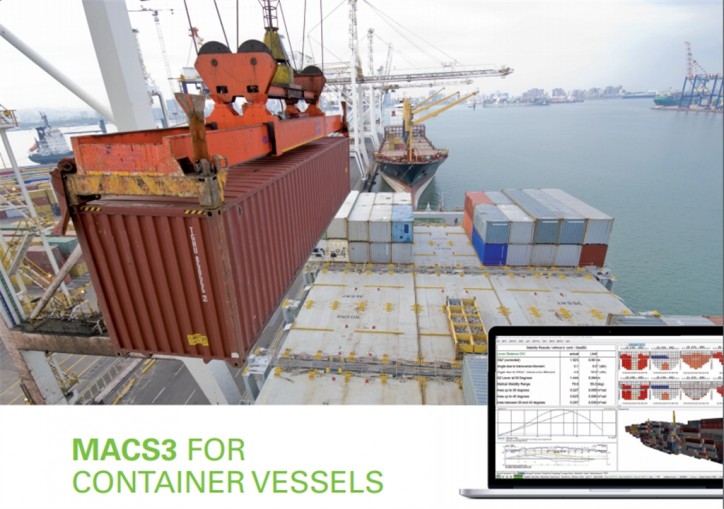 The MACS3 version has been adopted for Chinese inland waterway transport and provides a streamlined overview of all relevant stability criteria, which includes listing limits and for all loading and ballast water conditions. Additionally, it contains a coefficient factor that allows cargo officers on board to quickly check whether the vessel complies with the CCS' inland waterway stability standards. Thanks to the IMDG module, MACS3 complies with Chinese standards for the inland waterway transport of dangerous goods.
This dedicated MACS3 version for vessels serving Intra-Asia trade is provided as a service to owners who value safe and efficient vessel and cargo performance for sea-going vessels and for river-sea shipping. A total of 20 river box ships operating in Chinese waterways have been equipped with it thus far.
"Inland waterway transport throughout the world is subject to the highest standards of national authorities and classification societies to ensure safe and efficient cargo transportation. MACS3 is known for its high degree of flexibility in implementing international and national regulations according to customers' needs," said Guy Rey-Herme, President of XVELA and the Head of Maritime Solution at Navis. "At Navis, we maintain solid long-term relationships with Chinese ship owners and shipyards. The close collaboration supported by our agency network ensures we are able to understand the requirements of local owners and incorporate them into our products and services."
Established in 1984, the MACS3 loading computer features a ship library that includes approximately 5,000 vessel profiles of container vessels, bulk carriers, multipurpose vessels, tanker vessels, roro vessels and offshore vessels which holds a market share of approximately 65 percent of the container vessel segment. Following the integration of MACS3 with the XVELA's collaborative maritime business network platform and the stowage planning solution StowMan, the vessel profiles are also available to users of XVELA and StowMan software. Due to MACS3's connectivity to XVELA, customers profit from a faster way to check stability and lashing calculations. This is due to the fact that terminal vessel planners can see the same results depicted on vessels while creating their plans, thus resulting in a quicker start for loading and discharging operations at the terminal.
Additionally, as an industry standard, MACS3 has been deployed for the training of future nautical officers by maritime colleges and universities worldwide, including Wuhan Technology University and the Dalian Marine College.
For more information, please visit: http://www.navis.com/macs3-loading-computer
Source: Navis