Incat Crowther announced earlier today the delivery of Glory, the second 27m Catamaran Ferry built by Gladding-Hearn for MBTA of Boston, Massachusetts, following on from sister ship Champion.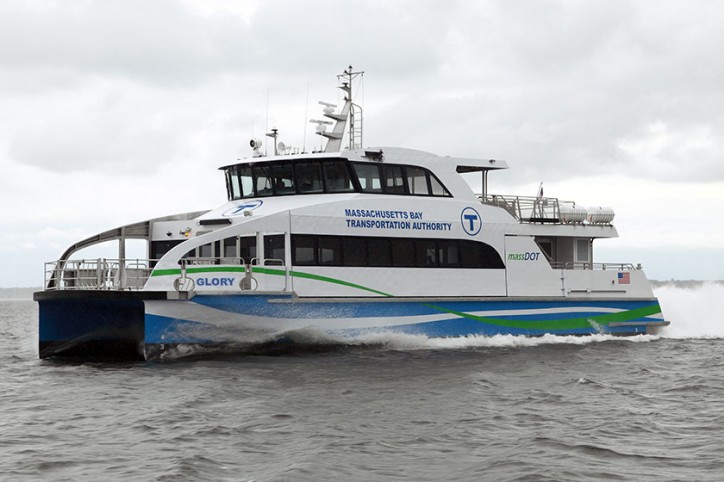 When Champion was launched late last year, she was the 500th Incat Crowther-designed vessel to enter service. Following an enormously productive period for Incat Crowther, Glory takes that number to 529. At the heart of that growth is a range of multi-vessel mass transit projects, such as a quartet of vessels for San Francisco's WETA and 18 vessels for NYC Ferry in New York. These projects demonstrate Incat Crowther's ability to work with public sector operators to develop long-term solutions that balance a multitude of criteria.
The design is optimized for bow loading, with double-width gates and doors. The bow design integrates with existing shore-based infrastructure and the wheelhouse is designed to meet strict visibility requirements, allowing the captain to clearly see the foredeck.
Among the challenges of a modern commuter operation is the ever-increasing demand for passenger amenity. Champion and Glory deliver in this area with full disability regulation ADA compliance (including 4 wheelchair spaces and accessible bathroom), concession stand, luggage racks, bicycle storage for 10, a ticket counter, the requisite trash receptacles and of course, WiFi. This has been delivered in a compact package that achieves class-leading efficiency.
Just like Champion, Glory's entire superstructure is isolated by resilient mounts, to reduce noise and vibration in the cabin, allowing the vessel to exceed the contractual requirements.
Glory is powered by a pair of Caterpillar C32 Acert engines, driving Hamilton HM571 water jets, for a service speed of 26 knots and a top speed of 30 knots.
Source: Incat Crowther