Luxury cruise liner, Azamara Pursuit, the third ship in the Azamara Club Cruises fleet, has left Belfast following a successful refit at the hands of MJM Group.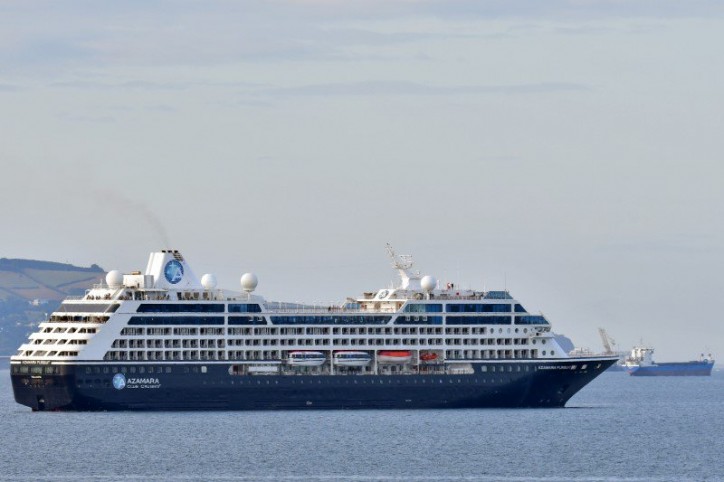 MJM Group managed the complete multi-million pound refurbishment and rebrand of the ship which included securing and managing the ship yard services on behalf of Royal Caribbean Cruise Lines (RCCL) and Azamara Club Cruises. This is the first time an outfitter has managed a project of this scale end to end with full project management responsibility including shipyard services from the cruise ship owner. It is also the first time in many years a project of this scale has been completed in Belfast.
Speaking as the ship prepared to set sail, Gary Annett, MJM Group CEO commented: "The Azamara Pursuit has been an historic project from the outset for MJM Group. With these 'firsts', there has been wide-spread interest from around the world in this project. It has certainly been challenging but we are delighted to have completed the project on timeand to the satisfaction of our clients, RCCL and Azamara Club Cruises."

The four-month refit project, which took place at Harland & Wolff, incorporated every area of the ship, several hundred people working on it at peak times and hundreds of suppliers from around the world, including more than 100 from Northern Ireland. This represented a huge boost to the local economy with workers on the ship staying in hotels all over Belfast as well as utilising hundreds of flights in and out of our local airports. We were also delighted to recently take a number of our local suppliers on a tour of the ship to show them how important our Northern Ireland supply chain is to our work globally."

"This has been a real top to bottom, inside and out refit," adds Gary. "Our works have included demolition, steelworks, technical installations, strip out and installation of new stateroom suites, refurbishment of existing staterooms and the refit of all public spaces including the pool and spa areas. It has been an exceptionally busy project, but the end result speaks for itself. We are exceptionally proud of what the team at MJM Group has achieved."
The Azamara Pursuit (see also at CruiseMapper) will join sister ships Azamara Journey and Azamara Quest in the Azamara Club Cruises fleet.
"This has been such an exciting project for us," comments Richard Twynam, Managing Director, Azamara Club Cruises UK, "we are so thrilled with the outcome and it's been a delight to witness the ship's transformation right here in the UK."

"Our partnership with MJM Group has grown in strength throughout this project and our joint efforts really have created something special not just onboard the ship but in the relationships we have established. I am already looking forward to working with MJM Group in the future."
The Azamara Pursuit leaves Belfast today (26th July) and sails to Southampton in preparation for her maiden voyage on 1st August.
"We may be leaving Belfast today but this is not goodbye," adds Richard. "Belfast is a fantastic city, with its architecture, the buzz and the wonderful people. We are delighted therefore that Belfast is on our cruise itinerary and we are looking forward to bringing the Azamara Pursuit back in August and sharing this amazing city with our guests."

For MJM Group, the Azamara Pursuit project represents an important milestone for the company and for Chairman, Brian McConville.

We are celebrating 35 years in business this year so to bring the Azamara Pursuit to Belfast this year has been particularly special. As part of our 35th anniversary celebrations we invited 400 guests including MJM Group staff, stakeholders and  EY Entrepreneur Of The Year Alumni on a preview cruise. This not only helps the ship prepare for its inaugural voyage but it was an opportunity for us to raise a substantial amount of money for local charities. We hope to have the total confirmed in the coming weeks."

Brian continued "I have had a long-held ambition to refit a cruise ship in Belfast. But this is about more than my ambition. This is about the expertise and professionalism of the team at MJM Group and the confidence and trust that RCCL and Azamara Club Cruises have placed in us to deliver such a challenging project. And I am exceptionally proud of what we have achieved. Not only does the Azamara Pursuit looks amazing, but MJM Group has built a strong partnership with Harland &Wolff and shown the global marine industry that Belfast can deliver. I believe that this project is a milestone moment for the industry and I look forward to bringing more ships to Belfast in the future."
Source: MJM Group