China State Shipbuilding Corporation (CSSC) has commenced construction of CMA CGM's 22,000 TEU boxships, which would make them the largest container vessels in the world, reported China's official media.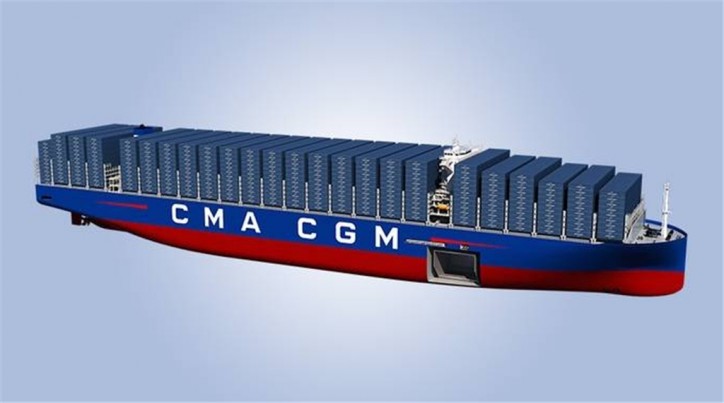 The two are among nine 22,000 TEU vessels deal signed by French container shipping operator CMA CGM and China State Shipbuilding Corporation (CSSC) in September last year.
Built by Shanghai-based Jiangnan Shipyard and Hudong-Zhonghua Shipbuilding, the two container vessels measure 400 meters in length, 61.3 meters in breadth and 33.5 meters in depth.
The deadweight of the box ship is 220,000 DWT, which can contain 1,000,000,000 iPhoneX (with standard packing box). Moreover, it can still hold 2,200 4-foot refrigerated containers, accounting 20 percent of the whole TEU. 
The ships will be fitted with liquefied natural gas (LNG)-powered engines, making CMA CGM the first container shipping company to opt for LNG propulsion as main fuel for such large ships. 
Such LNG vessels have distinctive advantages compared to the current ships using heavy fuel oil: Up to 25 percent less CO2, 99 percent less sulphur emissions, 99 percent less fine particles and 85 percent nitrogen oxides emissions. 
The two vessels are expected to be delivered in 2019. 
For the list of world's largest boxships see at CruiseMapper