Effective August 1, 2018, Orient Project Shipping will act as exclusive commercial agent in Southeast Asia (SEA), Australia and New Zealand for dship Carriers.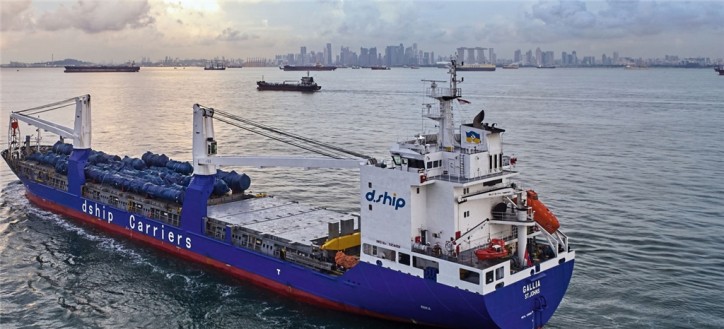 "With our extensive experience in the project market, we selected a partner that provides our clients with the ideal platform for placing their bookings," says Lars Feller, Global Vice President of dship Carriers.
Pat Evans, Managing Director of Orient Project Shipping, commented that "the rapidly growing dship multi-purpose fleet and their consistent presence in Southeast Asia are the perfect fit for the clientele we serve in the region."
With the nomination of Orient Project Shipping (S) Pte Ltd for the aforementioned region, dship Carriers Singapore will focus on fleet management and ship ownership.
Contact details are as follows:
Orient Project Shipping (S) Pte Ltd
51 Anson Road
#04-55 Anson Centre
Singapore 079904
T: +65 6227 2026
F: +65 6227 2231
E: shipping@orientproject.sg
Person in charge: Pat Evans
About dship Carriers
dship Carriers is a global ocean carrier that owns and operates a fleet of multi-purpose vessels designed to support the specialized needs of breakbulk, heavy lift, dry bulk, and project cargo clients. Our offices, strategically located in Houston, Tokyo, Singapore and Hamburg, are staffed with leading industry experts in the areas of chartering, naval engineering, stowage planning and other related maritime services.
dShip fleet currently consists of 10 multi-purpose, heavy lift, tween deck vessels featuring capacities of about 12,500 DWAT with a combined crane capacity of up to 360 metric tons. In addition, there will be two newbuildings coming into service in late 2018 and at the beginning of 2019 with a combined loading capacity of 500 metric tons, allowing for a variety of fully customizable services tailored to ocean chartering needs.
About Orient Project Shipping
Orient Project Shipping is a ship brokerage specializing in the ocean transportation of project and heavy lift cargo. It was established in 1990 and has a wealth of knowledge covering Southeast Asia and the APAC region.
Source: dShip