Kawasaki Kisen Kaisha, Ltd. (K-Line) and Tokyo Century Corporation held naming ceremony for the newly-built liquefied natural gas (LNG) carrier (*1) for JERA Co., Inc. (JERA) at Sakaide Shipyard of Kawasaki Heavy Industries, Ltd. (KHI) yesterday.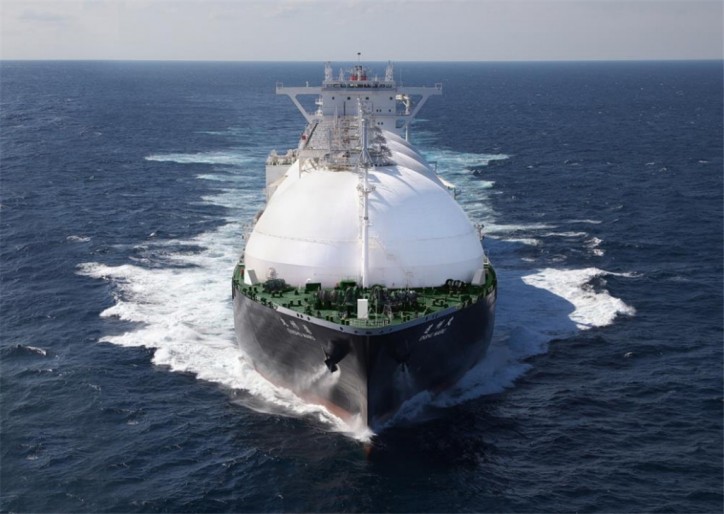 The new vessel was given her name ENSHU MARU by Chairman of the Board of Directors Mr. Akihisa Mizuno of Chubu Electric Power Co., Inc. "ENSHU MARU" comes from the name of an old district in western Shizuoka Prefecture named "Tohtoumi" which is part of the service area of Chubu Electric Power Co., Inc.
Under the operation of LNG Marine Transport Ltd., "ENSHU MARU" will mainly serve the transportation route between Freeport LNG project in United States and Japan after delivery, and is expected to contribute to stable transportation of energy for Japan.
Main Particulars of the Vessel:
 Owner
 Trans Pacific Shipping 4 S.A. (*1)
 Construction Yard
 KHI Sakaide Shipyard
 LOA
 About 293m
 Beam
 48.9m
 Tank Capacity
 164,700m3
 Boil Off Rate (*2)
 0.08% per day
 Propulsion System
 Reheat Steam Turbine (Kawasaki Advanced Reheat Turbine
 Plant) (*3)
 Speed
 19.5 Knot

(*1) Joint venture company with shares owned by "K" Line and Tokyo Century.
(*2) Boil Off Rate (BOR): Ratio of natural vaporized gas against maximum tank capacity to indicate capability of tank heat-insulation system.
(*3) Reheat Turbine Plant: Next-generation LNG carrier propulsion plant of high thermal efficiency and high reliability, incorporating the most advanced materials and control technologies including improvements in steam conditions to raise the thermal efficiency.
Source: K-Line