On 9 August 2018, the liquefied natural gas (LNG) carrier Pskov completed loading at the Port of Sabetta (YNAD), with the first cargo of LNG produced from the second high-tech production line at the Yamal LNG plant. Yesterday marked the launch of the second production train at Yamal LNG, which happened six months ahead of schedule.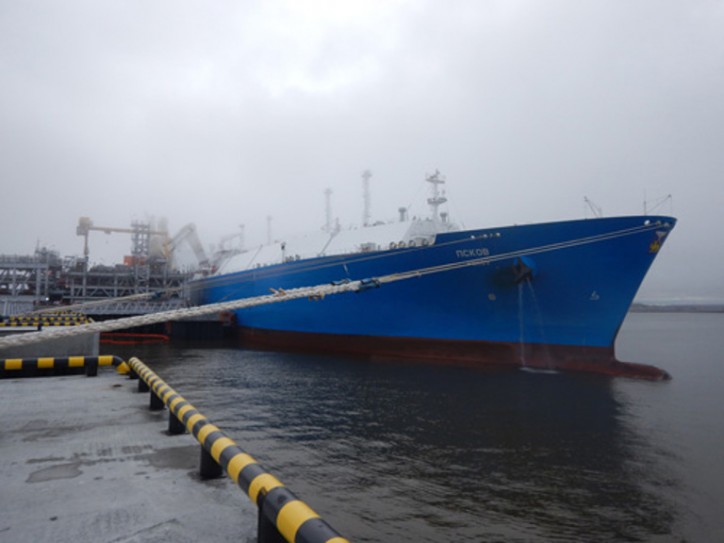 Pskov is a state-of-the-art Atlanticmax LNG carrier with a cargo capacity of 170,000 cubic metres. She was built to order for Sovcomflot Group in 2014, to transport LNG under a long-term time charter agreement with Gazprom. The vessel is currently sub-chartered to Yamal LNG and transports LNG from the Yamal Peninsula to West European ports.
Pskov has ice class Ice2 (according to the classification of the Russian Maritime Register of Shipping) and is equipped to operate at low temperatures. The type of cargo system (reinforced membrane structure) is suited to operations in challenging climatic conditions, as confirmed by trials conducted in collaboration with experts from the Russian Maritime Register of Shipping and the Krylov State Research Centre (St. Petersburg).
After completing cargo operations, the LNG carrier left the Port of Sabetta and is now sailing westward along the Northern Sea Route. The current ice conditions along her route allow the vessel to proceed without icebreaker assistance.
Sovcomflot Group (SCF Group) is Russia's largest shipping company, as well as a global leader in the maritime transportation of hydrocarbons and the servicing of offshore oil and gas exploration and production. Its owned and chartered fleet includes 147 vessels with a total deadweight of 12.7 million tonnes. 79 vessels have an ice class.
Sovcomflot is involved in servicing large oil and gas projects in Russia and around the world: Sakhalin-1; Sakhalin-2; Varandey; Prirazlomnoye; Novy Port; Yamal LNG, and Tangguh (Indonesia). The company is headquartered in Saint Petersburg, with offices in Moscow, Novorossiysk, Murmansk, Vladivostok, Yuzhno-Sakhalinsk, London, Limassol, and Dubai.
The first cargo of liquefied natural gas produced on the first production line of the Yamal LNG plant was also transported by a Sovcomflot Group vessel, namely the Arctic LNG carrier Christophe de Margerie. On 8 December 2017, Russian President Vladimir Putin started cargo operations at the Port of Sabetta.
Source: Sovcomflot