AP Moller-Maersk is pushing through further cost cutting measures after reporting what it called an unsatisfactory second quarter performance just a week after a profit warning.
Copenhagen-listed Maersk's second quarter results contained few surprises given last week's disclosure, but were branded "relatively good" by analysts at Clarksons Platou Securities.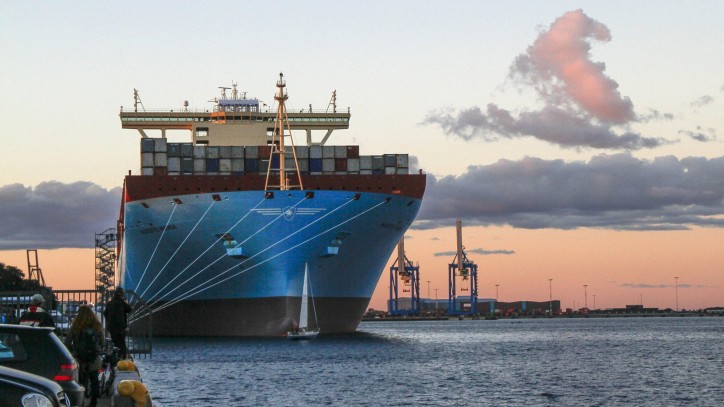 While the figures were further overshadowed by the announcement of a planned IPO for Maersk Drilling, the cost reduction efforts are expected to improve performance in the second half of the year, according to chief executive Soren Skou.
"Earnings remain at an unsatisfactory level and several initiatives were implemented in the second quarter to restore profitability which will begin to materialise over the second half of 2018," Maersk said.
In addition to general cost saving programmes, specific initiatives are being implemented in its Ocean division, which contains the majority of Maersk Line's container business.
Network changes and capacity reductions are taking place in trades "not yielding the desired results" Maersk says.
Improvements to fuel efficiency and boosting the empty cost base and utilization, are also part of the drive, while several services were closed in the second quarter.
Ahead of forecasts
AP Moller reported an underlying profit of $88m for the three months to the end of June, down from $205m at the same stage a year ago.
The figure was ahead of the $185m loss consensus prior to the profit warning, notes Nicolay Dyvik of DNB Markets.
Skou says revenue is up by one quarter with the the acquisition of Hamburg Sud making a positive contribution.
"Profitability was significantly impacted by higher bunker prices in the second quarter and remained at unsatisfactory levels," he said.

"We expect revenue of around $40bn in 2018, up almost 50% since 2016. We also delivered a sharp improvement in unit cost in Ocean, after a the first quarter that was negatively impacted by inflow of capacity from the acquisition of Hamburg Sud and network issues."
Frode Morkedal of Clarksons Platou Securities says unit costs fell by 6% from the first quarter, due to lower network costs, currency movements and one-off items.
"In essence they have returned back time-chartered vessels from Hamburg Sud as the fleet has been integrated into the Maersk Ocean network in he second quarter," he said.

"In sum we believe the improved cost base means that Maersk should easily meet their new full year guidance of $3.5bn-$4.2bn despite tepid freight rates."
Source: TradeWindsNews.com