Denmark's Maersk said on Tuesday that it has plans to send the first container ship from East Asia to Europe via the Arctic Ocean.
Maersk's state-owned Chinese rival Cosco (CHDGF) has been testing the Arctic route for several years with a series of voyages by multipurpose cargo ships carrying goods such as wind turbine equipment. But Maersk said its journey will be the first by a specialized container vessel.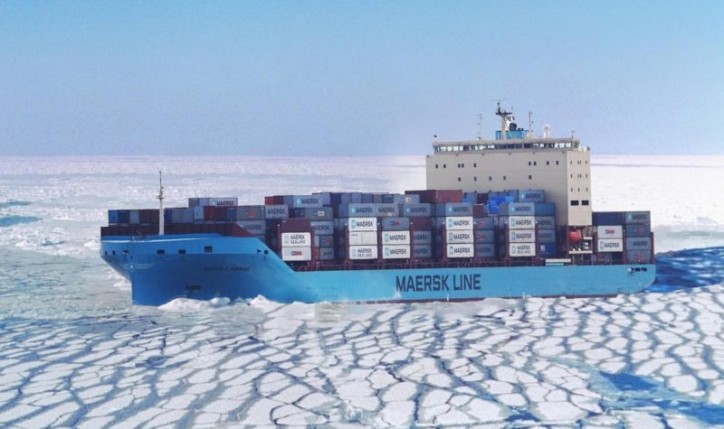 Try out a new route
The newly built Venta Maersk is set to leave from the Russian port of Vladivostok later this month. It will sail through the Bering Strait and over the top of Russia en route to St. Petersburg, taking what is known as the Northern Sea Route.
"This is a trial designed to explore an unknown route for container shipping and to collect scientific data," Maersk said in a statement. "Currently, we do not see the Northern Sea Route as an alternative to our usual routes."
Ultra Cold containers
The company said the Venta Maersk, which can carry roughly 3,600 containers, is designed to withstand waters as cold as minus 25 degrees Celsius (minus 77 degrees Fahrenheit). It will transport a cargo of goods including frozen fish on the trial voyage, after which it will be deployed in Europe's Baltic Sea.
The ship's crew of 26 have been given special training to withstand the harsh conditions.
Not a commercial route
Maersk said that it currently had no plans to launch commercial services on the route, which is only viable as shipping lane for about three months every year. The company said it would also need to invest in more vessels capable of handling Arctic conditions.
Can it replace Suez canal?
The view of the Arctic as an alternative shipping route has been supported by meteorological models that predict that the polar region will be ice-free for at least part of the year as early as the middle of this century.
Thinning ice could open new paths for global trade, potentially saving companies money compared with longer journeys via more southerly routes.
The Northern Sea Route has been touted by some experts as a possible alternative to Egypt's Suez Canal as a major global shipping artery between Asia and Europe.
Quicker and cracker route
Big ships making their way across the top of the world typically need to be accompanied by nuclear-powered Russian icebreakers to plow through patches of six-foot-thick ice.
Last year, a Russian tanker carrying natural gas became the first merchant ship to sail across the Arctic without the help of an icebreaker, finishing the journey in record time.
The ship, the Christophe de Margerie, traveled from Norway to South Korea in 19 days, about 30% quicker than the regular route through the Suez Canal.
Maersk said it wasn't yet clear how long its container ship would take to cross the Arctic.
Source: CNNMoney