Havyard Design & Solution and Havyard Ship Technology have won a contract with ESVAGT for the design and building of two further windfarm service vessels.
Havyard Design & Solution will provide the design and Havyard Ship Technology will equip the vessel. This will be the sixth and seventh windfarm service vessels that Havyard delivers to ESVAGT, making Havyard the world's leading designer of windfarm service vessels.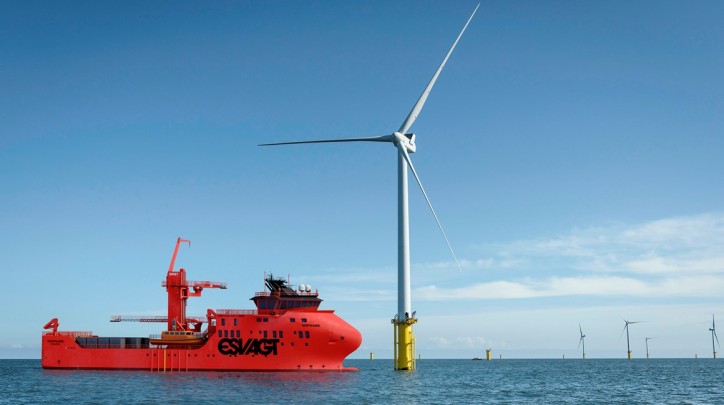 The vessels will be delivered to ESVAGT in Q3 2020 and Q1 2021, and form part of a long-term contract with the Danish wind power company MHI Vestas. The windfarm service vessels will service the fields Borssele 3-4, located 22 km off the coast of Zeeland in the Netherlands, and Triton Knoll, which is 33 km off the coast of Lincolnshire in England.
This will be the fourth and fifth vessels for ESVAGT to be equipped by Havyard Ship Technology at the yard in Leirvik. The vessels have been allocated build numbers 146 and 149.
'Havyard is particularly pleased that good customers have come back and placed orders with our yard in Leirvik. This shows that ESVAGT is very satisfied with the quality of the vessels we have delivered previously and that the yard in Norway is still competitive in specialised and advanced vessels, where quality, function, price and precise delivery are essential,' says EVP of Havyard Ship Technology Lasse Stokkeland. 
New and more efficient design
In the same way as previous vessels, Havyard 831 L SOV has been developed in close cooperation between Havyard Design & Solutions, the shipping company and the operator in order to find the best and most efficient solutions.
'The ship is designed to provide optimal positioning capabilities, and Havyard Design & Solutions has used some of the most advanced theoretical calculations to predict the vessel's properties. Our long experience with this type of vessel has enabled us to produce a very high level of comfort and safety,' says Design Manager Arve Leine.

Good cooperation produces good results and more innovative developments.

'Through our close and proactive cooperation with Havyard, we know we will get a vessel that provides good, safe, innovative and efficient services for our customers,' says Deputy Chief Executive Officer in ESVAGT, Kristian Ole Jakobsen.

Gisle Vinjevoll Thrane at Havyard is pleased that the good collaboration will continue and about the results this will reap.

'The cooperation has been and remains long-term, and it is especially motivating to see how far we have come together. ESVAGT is a customer that knows what it wants and that we will deliver. We know each other and trust each other. In this way, we can also challenge each other and develop unique vessels like 831 L SOV.'
Source: Havyard